Running a medical practice means managing dozens of staff members and juggling hundreds of tasks each day. Even one mistake can have severe consequences for patient care and your financial situation. NextGen EHR software, combined with TempDev's expertise, can solve many of these issues. With their help, you can easily conduct a thorough NextGen EHR audit and stay current with any problems that arise from it. Knowledge is power in limiting risk exposure, particularly in the medical field, and once you understand your issues, you can develop a plan to fix them.
NextGen EHR Audit Reports
Running NextGen EHR audits does not have to be complex or time-consuming. NextGen EHR has a rich database where much of the clinical information is stored in discrete data fields. TempDev has created many different types of SSRS audit reports and flag issues automatically. The data provided by these reports allow you to identify problems and correct them quickly. Instead of fearing audits, you and your staff will embrace them as the necessary processes they are.
NextGen EHR Clinical Audit Report
This NextGen EHR Clinical Audit Report provides practice, provider, and patient-level information. It displays an overview of how many appointments the physician has with metrics on how many have visit codes billed and documents created. It also displays a list of visits for the provider, E&M and visit codes that were billed, HCC codes that were diagnosed, and if a chart note document was generated. The NextGen EHR audit report gives you a clear picture of stats on individual clinician appointments. The patient-level function displays information such as the encounter number, patient name, appointment date, appointment type, financial class, documents generated, and CPT codes.
This information helps you spot and remedy workflow issues, but it also lets you document and complete billing more accurately. You can make significant practice improvements in hours when you are armed with this data.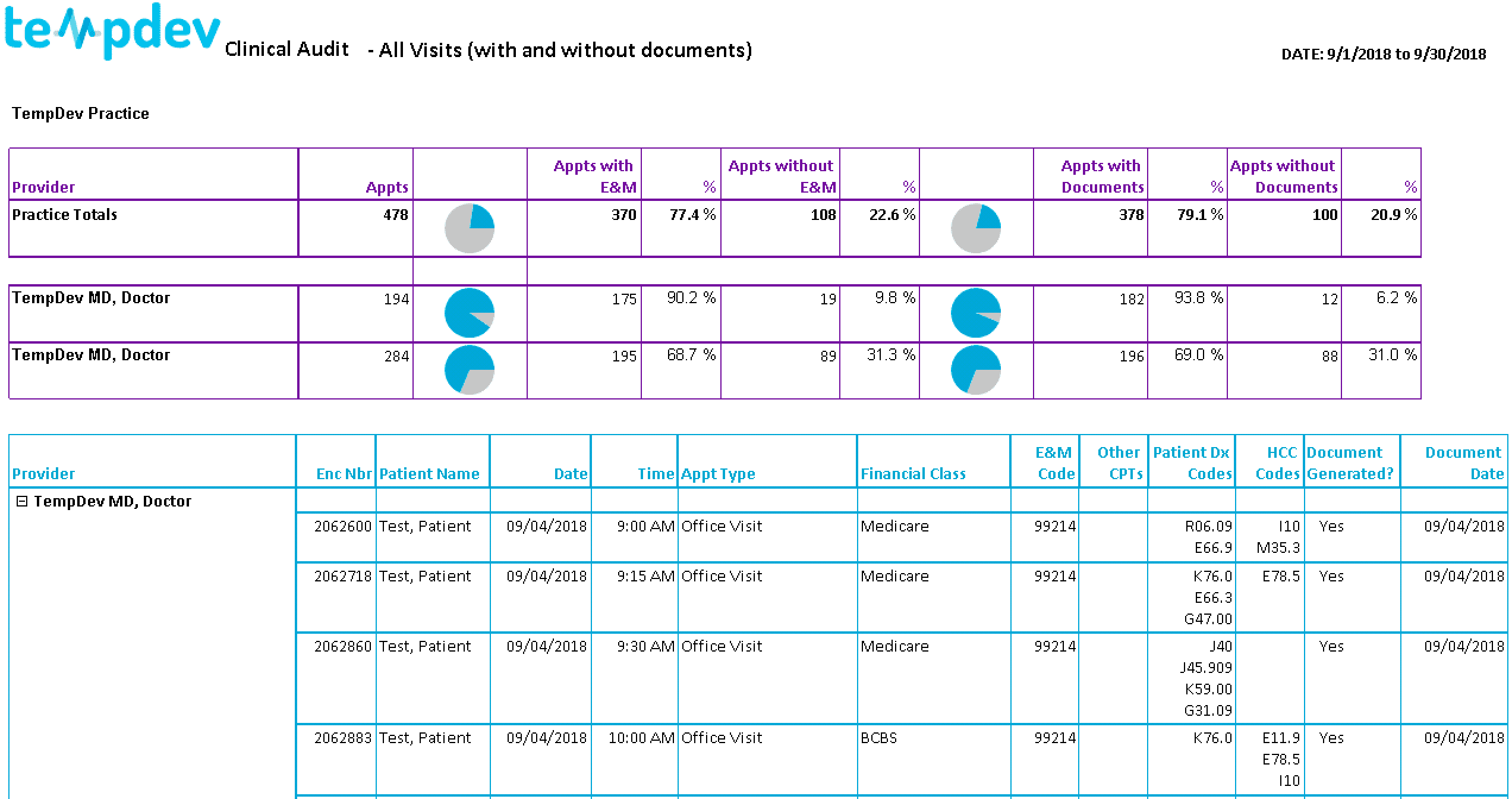 NextGen EPM Front Desk Audit
The Front Desk Audit NextGen EPM report is another valuable tool for your practice. Patient satisfaction and prompt reimbursement depend on a smooth-functioning front desk. TempDev's report, combined with NextGen EPM, provides a simple way to stay on top of front desk performance, which is key to your practice's overall health.
This one-page audit report gives you detailed information on each patient's check-in, including appointment type, check-in time, new patient indicator, insurance card scanned indicator, and expected and collected copay. The report also shows charges accepted from NextGen EHR indicator, NextGen Patient Portal token generated, and NextGen Patient Portal enrollment status.
No front desk can run well without a team effort. This report also allows you to evaluate task division among your staff and spot potential revenue collection problems. You can easily use this information to correct workflow issues before they get out of hand.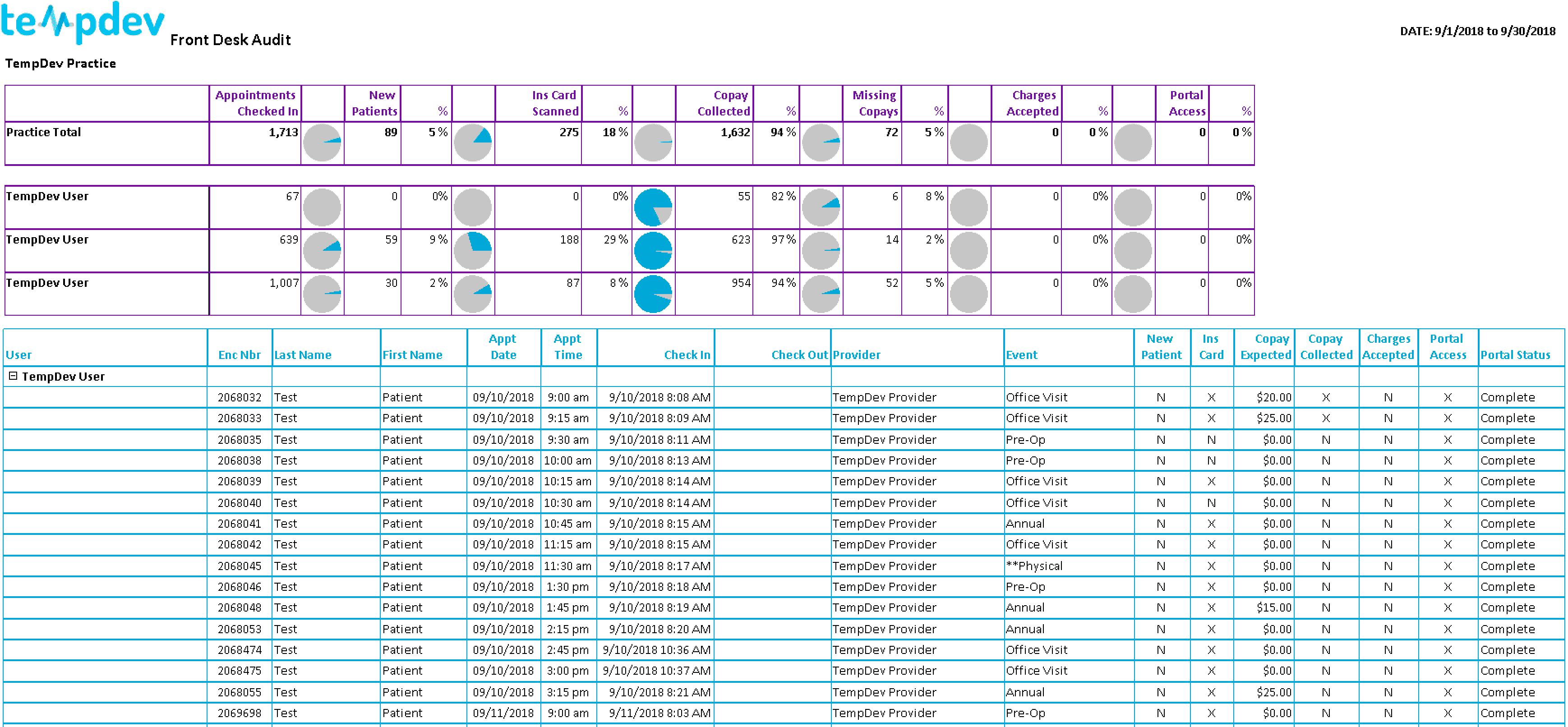 NextGen EHR Tasking Audit Report
Healthcare workers are on the front lines of every medical crisis that arises. Managing care for just one patient can generate multiple tasks for several team members. The workload can soon become crushing if you don't have the right EHR software and workflow to simplify the process.
The NextGen EHR Tasking Audit Report gives you an accurate and easy-to-read look at how your staff is managing their workload. This report offers you practice and user-level data on which tasks are open and which have been closed. The categories include:
Communications

Medications

Orders

Referrals

Others
The tasking audit makes it easy to identify staff members who stay current with their task load and to spot potential problems with those who lag behind. You'll be able to make an informed assessment based on the task's priority level and the employee's current status. This information prevents tasks from sitting undone in a terminated or vacationing worker's queue. Most importantly, you will be able to determine if essential tasks are being neglected.
You'll also see the due date for each task so that you can take action before a log jam occurs by reassigning tasks from over-burdened employees to those with a lighter load. The report helps you to maximize your staff's effectiveness.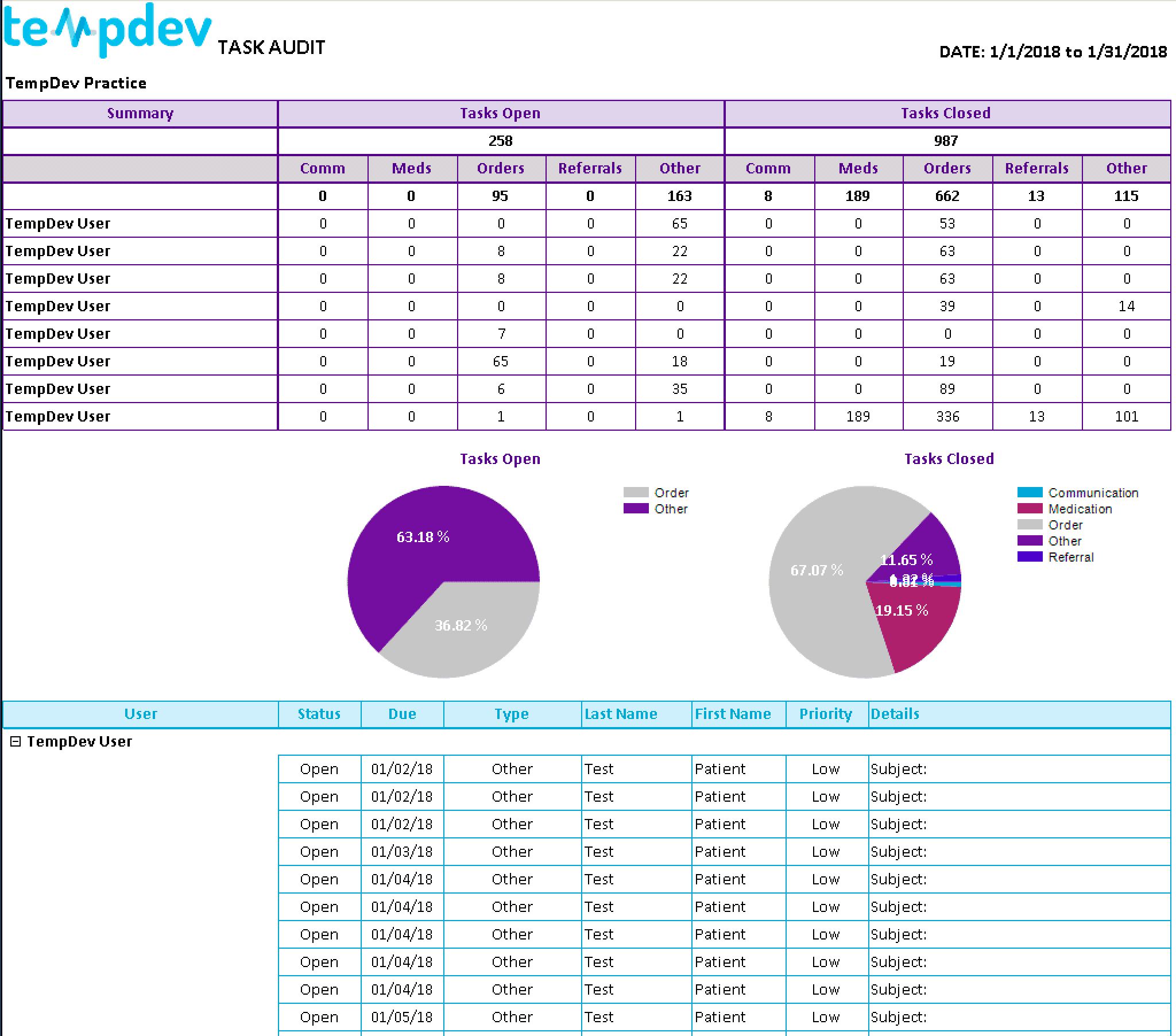 PAQ NextGen EHR
Audit
Report
The PAQ NextGen EHR Audit report is another way to keep your practice functioning as it should while reducing the stress of healthcare professionals. Effective patient treatment depends on medical professionals completing necessary tests quickly and then promptly relaying the results to the proper people. If a physician or staff falls behind on these tasks, patients may miss out on critical care, leaving patients at risk and your practice open to lawsuits and negative public perception.
The NextGen EHR audit report offers you PAQ practice-level and individual provider data in vital categories, including:
Orders

Documents/Chart Notes

Reports

HIE
This information lets you evaluate efficiency in completing and reporting task results from labs, CT scans, MRI, and chart notes. You'll see which items are closed quickly and which are left uncompleted for long periods. This data lets you find and repair severe flaws in your current workflow, allowing you to serve your patients and your bottom line better.
These audits are not meant to be punitive. They simply allow you to monitor the health of your operation and make changes that benefit everyone involved. Plus, you can run these audits in minutes instead of spending hours doing more paperwork.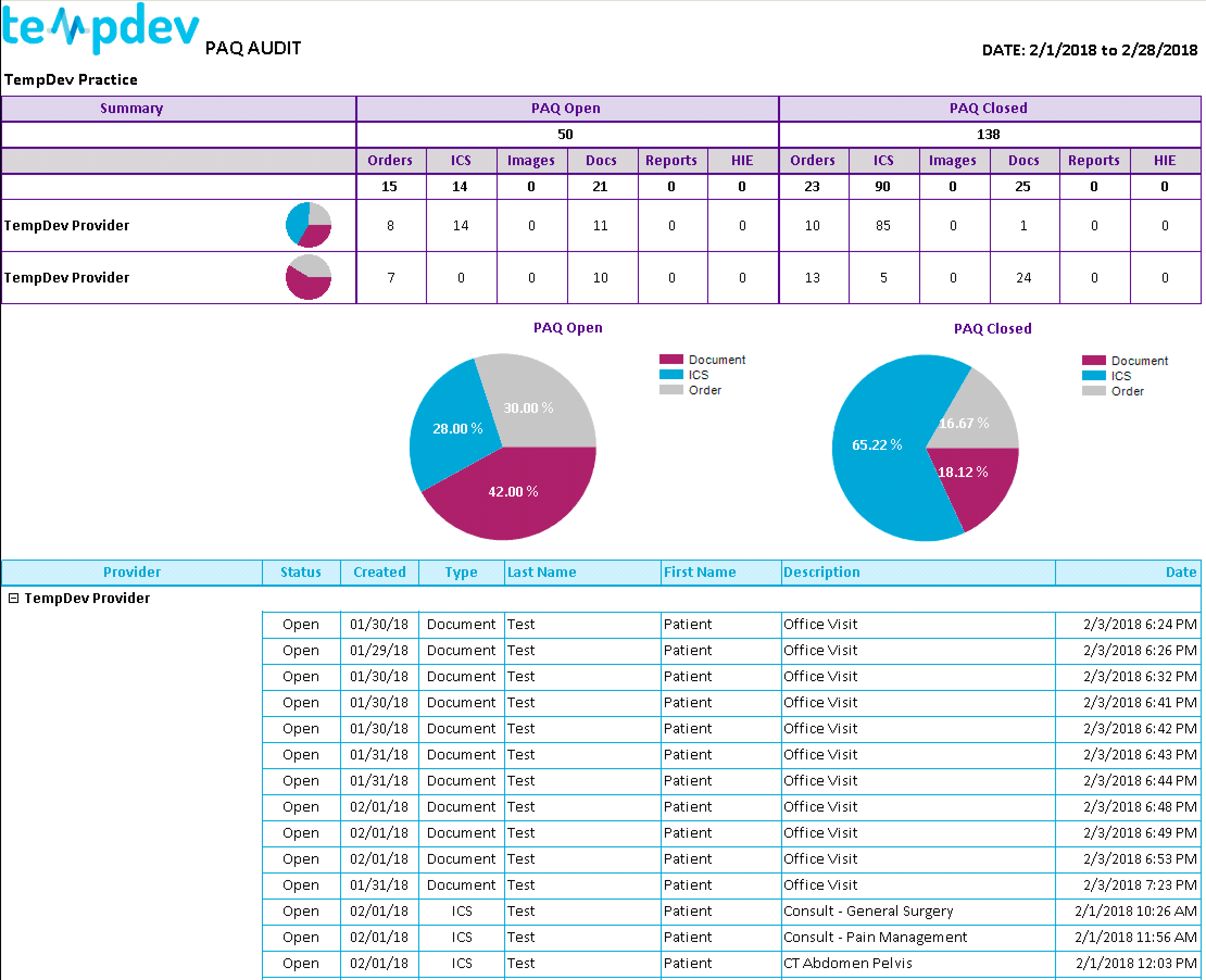 The TempDev Advantage
The TempDev consultants are experts on NextGen software, including audit reports. They will analyze your practice's specific needs and recommend the solutions that will work best for you. Then, they will be there to support and guide you so that you maximize your NextGen Healthcare benefits.
Conducting a thorough EHR audit may sound complicated, but surprisingly, it is simple with the TempDev team. You'll be able to run these audit reports in minutes and get a clear view of how your practice, providers, and front desk employees are performing. Each auditing report also comes with colorful graphics that make it even easier to understand the data.
Practicing due diligence doesn't have to be difficult. For more information, click here or call 1.888.TEMP.DEV.
Interested?
Agree with our point of view? Become our client!
Please submit your business information and a TempDev representative will follow up with you within 24 hours.