TempDev, the premier NextGen EPM consulting firm, recommends that you use the Front Desk Audit NextGen EPM Report to enhance your practice's efficiency and financials. The healthcare financial landscape is changing, and patient collections have a significant financial impact on your practice. This shift means that your front desk staff has more responsibility towards your bottom line than ever before. If their performance level is not what it should be, the entire practice suffers. The Front Desk Audit NextGen EPM report, written in Microsoft SSRS, is an effective way to analyze the strengths and weaknesses of your front desk operations. You'll get the statistics you need to make informed choices about the staff members who interact with your patients before anyone else. Your front desk staff benefits by learning better processes, which makes their jobs less stressful and more fulfilling. In addition, your patients will enjoy a smoother, more professional visit.
Front Desk Audit NextGen EPM Report Overview
The report itself is one easy-to-read page that gives you a helpful snapshot of your front-desk operation. It offers you several ways to quickly assess staff performance. You get a line by line readout on each patient, including:
Appointment type

Check-in time

Checkout time

New patient indicator

Insurance card scanned indicator

Expected and collected copay

Charges accepted from NextGen EHR indicator

NextGen Patient Portal token generated

NextGen Patient Portal enrollment status
The report also provides vivid graphics that reflect individual employee performance. In just a moment, you can spot front-desk trends, both good and bad. You can then take steps to improve your process flow. The report helps you understand the following:
Division of Duties
The Front Desk Audit report shows you how many patients each front desk employee is checking in and when those check-ins occur. Of course, these numbers will fluctuate due to several factors, but the report allows you to analyze performance over the long-term. It would be best if you intervened when one of your front desk employees is routinely checking in fewer patients than their coworkers, a situation that can cause dissent and attrition. This statistic also indicates that patients are left waiting for attention, a position that can lead to their changing providers. Often this problem can be corrected with a short training or retraining course aimed at improving efficiency. We have found it helpful, and worked with many organizations, to provide quick eLearning modules for retraining the routine front-desk tasks.
Revenue Flow
This NextGen report allows you to easily monitor essential revenue processes, including the collection of copays. Some front desk employees neglect this critical duty, particularly when they feel overwhelmed by patients. As patient responsibility has increased, collecting copays and deductibles is now a significant amount of incoming revenue. Failure to receive this money upfront means you have to waste time and effort to get it after services have been provided, which is significantly less reliable.
The audit reports show you what each patient's expected copay is and whether it was collected. It also tells you which employees are collecting copays when they check in patients. The "missing copay" category gives you the number and percentage of copays the employee failed to collect. As a rule, missing copays should be rare or non-existent. This vital issue can often be corrected by simply giving feedback to the offender.
Insurance Information
Medical practices live and die by insurance reimbursement. When your front desk personnel are performing well, they make sure to get current insurance information, particularly from new patients. This report lets you see which patients are new and how many of them had their insurance cards scanned at the desk. In addition, you can see how many insurance cards were scanned in total, which indicates how vigilant your staff is about verifying insurance information. You can also study the individual employee graphics to see which employees are routinely scanning insurance cards and which ones are missing this vital step.
Missing or incorrect insurance information is one of the biggest reasons that reimbursement is delayed. Patients often forget to update their insurance information unless your staff prompts them. When claims are unnecessarily denied, it affects your revenue flow, upsets patients, and creates yet more paperwork. The Front Desk Audit NextGen EPM report holds your staff accountable for following best practices in this area. It can even be customized to include eligibility check indicators.
Increased Efficiency
In general, using this report increases practice efficiency by letting you and your employees see where they excel and where they can improve. It exposes missed opportunities to get necessary information and to collect copays. The individual patient entries reveal if all steps of the check-in process have been followed. The last category in the patient entry shows if the Patient Portal enrollment steps have been completed. This information keeps you from "losing" a patient in your quality reporting.
You can use the appointment time and check-in time to assess how efficiently the front desk operation is working. In some instances, late check-ins are the patients' fault. They, too, may benefit from feedback and should be encouraged to arrive fifteen minutes early to prevent front desk complications. On the other hand, if check-ins are on time or early but appointments are consistently running late, you can look at different parts of your operation for answers. Perhaps patients are overbooked, or appointments are running too long.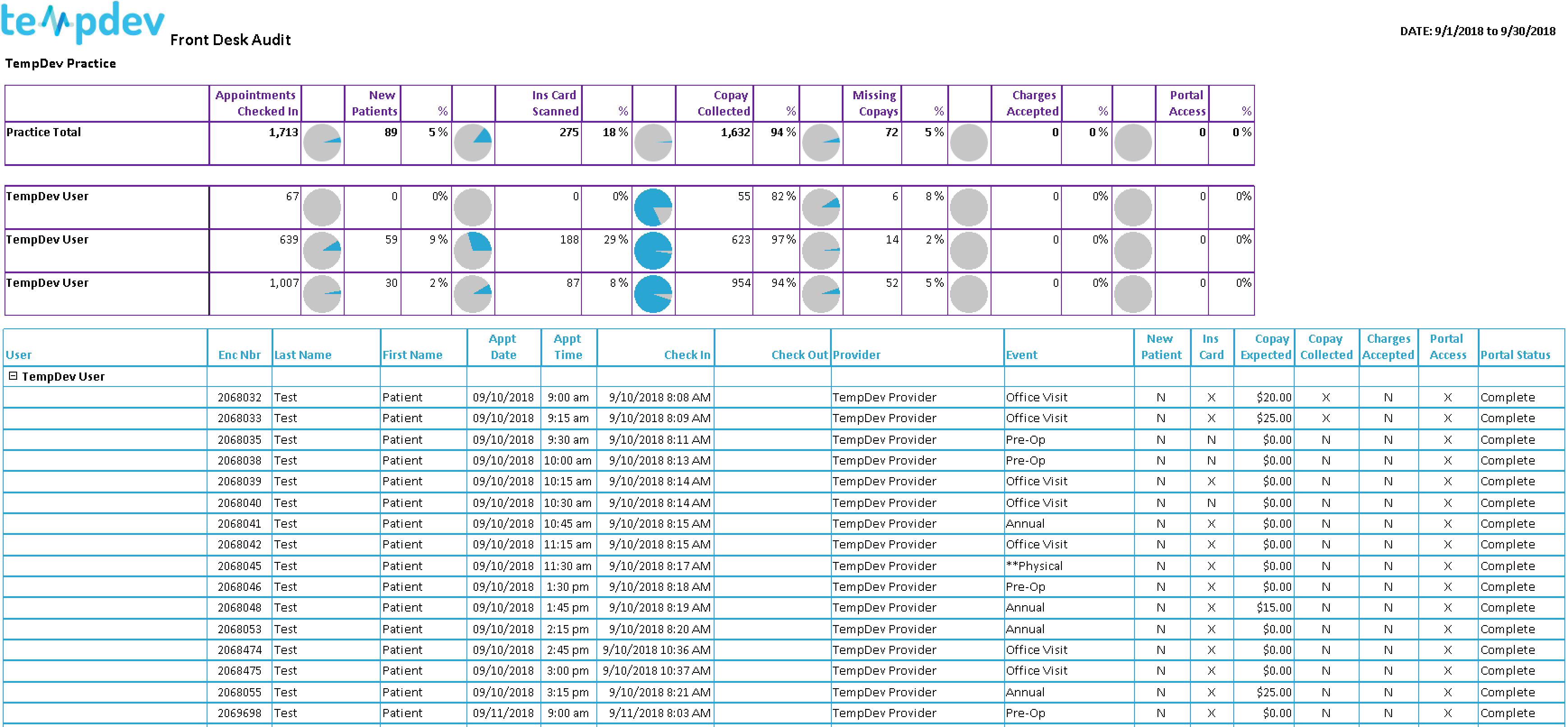 The TempDev Advantage
TempDev offers solutions for NextGen because they identify trends in an organization's needs and try to anticipate their needs. These flat-rate reports are less expensive than developing them individually, and the cost is spread between clients. Their skilled NextGen EPM consultants can advise you about which products will best fit your practice. They will instruct you in their use and troubleshoot for you when necessary. Because no technology is one-size-fits-all, they will customize a package that is geared to solving your particular provider challenges.
TempDev recommends the Front Desk Audit NextGen EPM Report because they understand the expanded role that your front desk employees play in today's healthcare landscape. Patients have more responsibility for their medical care, and their choices put more pressure on your front desk employees to function as helpful and diligent gatekeepers. This report is a positive tool for you and your staff. It is not meant to be punitive but merely to identify remediation opportunities. Your front desk will perform more efficiently, and that means the rest of your practice will as well.
2020 will bring more medical breakthroughs and challenges than in 2019. Navigating these challenges means you need to use the most effective solutions available to you. TempDev can help you with any of your NextGen EPM or EHR reporting needs by calling 888.TEMP.DEV or contacting us 
here
.
Interested?
Agree with our point of view?
Become our client!
Please submit your business information and a TempDev representative will follow up with you within 24 hours.