Managing the litany of NextGen tasks that flow through an Inbox daily can be a daunting responsibility for any practice. Without every employee's task list being well maintained, crucial tasks can go unmanaged. This can mean at best, poor communication with staff and at worst, a degradation in the level of patient care. Mistakes do happen, but these situations endanger patient health and leave your practice open to legal action and public relations nightmares. The NextGen EHR Tasking Audit Report, recommended by the NextGen consulting experts at TempDev, helps prevent tasks from falling through the cracks. By using this report, you can easily see that these tasks are being promptly managed and completed. If there is a practice or employee problem, you'll be able to determine who or what is causing it and move to correct the issue. 
NextGen Tasking Practice & User Data
All medical practices are tough to manage due to the sheer volume of work. You cannot keep a close eye on all assigned NextGen tasks in a busy practice unless you have help. The NextGen EHR Tasking Audit Report gives your practice management team a concise view of what tasks are opened by employees, groups, and clinicians and which ones are completed.
The practice and user-level information gives you open and closed NextGen task totals for the following categories:
Communications

Medications - Medication & SureScripts refill requests

Orders - Labs, radiology, & other important tests

Referrals

Others
The report gives you a quick overview of practice and staff efficiency with NextGen tasking. You can easily spot the staff members who have a high number of open tasks as well as those who are the most efficient at closing these tasks. It's also helpful to benchmark and trend staffing efficiency.
Colorful graphs highlight the percentages of closed tasks, illustrating both the open and closed task numbers. A second graph presents rates for specific closed tasks, including communication, medication, order, referral, and other categories. If you are pressed for time, a quick look at the graph gives you insight into the practice's efficiency and whether you need to dig deeper.
NextGen Tasking User Data
The NextGen EHR Tasking Audit Report lets you take a deep dive analyzing data on individual users. You can easily bring up this data for the month or for another designated time period. Then you can check the status of each user's tasks. The report gives you the following details:
User ID

Status

Due Date

Type

Patient Name

Priority

Details
You can investigate the data on individual tasks, including what the task is, when it is due and whether it is a high priority. You can prioritize the more urgent tasks to be re-assigned or focused. The report will also give you insight into uncompleted tasks they may be sitting in the Inbox not worked because they're on vacation or no longer employed.
NextGen Task Due Date
Merely knowing the due date for each task lets you see what kind of backlog the provider or user may have. Consistently missed due dates may signal a staffing problem. It also helps the office manager differentiate between tasks that are overdue from those that were created as tickler reminders
NextGen
Task Type
This category alerts you to what type of tasks are being ordered and by which user. You can spot trends and potential problems with certain workflows. For instance, if your numbers increase with referrals, you will need to work with the department processing them for possible retraining to correct it.
NextGen Task
Priority
You can quickly determine that all higher priority orders, radiology, labs, and procedures are being done in a timely manner, something that is essential to running a quality medical facility. If high priority items are not being handled appropriately, you can take corrective action before a problem arises. In that way, you protect the patient and the practice from adverse outcomes.
NextGen Task Details
The NextGen Task details are also displayed, so the user does not have to search for each task to understand and manage them. This information can help you understand why specific tasks are taking longer than others, perhaps due to particular circumstances or some other impediment. Task delays will always happen, but your staff or providers are not always at fault. Having this information will improve your communication with each user and prevent misunderstandings between management and staff.
The NextGen EHR Tasking Audit Report makes practice management easier. You can better communicate with system users about their open tasks and create positive solutions to any workflow issues. You'll also save time since the report gives you in-depth data in an easy-to-absorb format. Even when you are busy, you'll have time to check that task completion is current. This report is another advanced tool to improve patient care and practice workflow without requiring hours of your time.
NextGen Tasking Performance
A large number of incomplete tasks in the NextGen EHR Inbox can cause severe system performance degradation. The performance issues are not just related to the who has an unmanaged task list, but it affects all other users of the NextGen EHR system. Being proactive and regularly monitoring tasking compliance can assure you of a much more smoothly running NextGen. If you are suffering from this performance issue, TempDev has worked with several clients to come up with custom solutions to better manage their employee's task lists, including archiving solutions.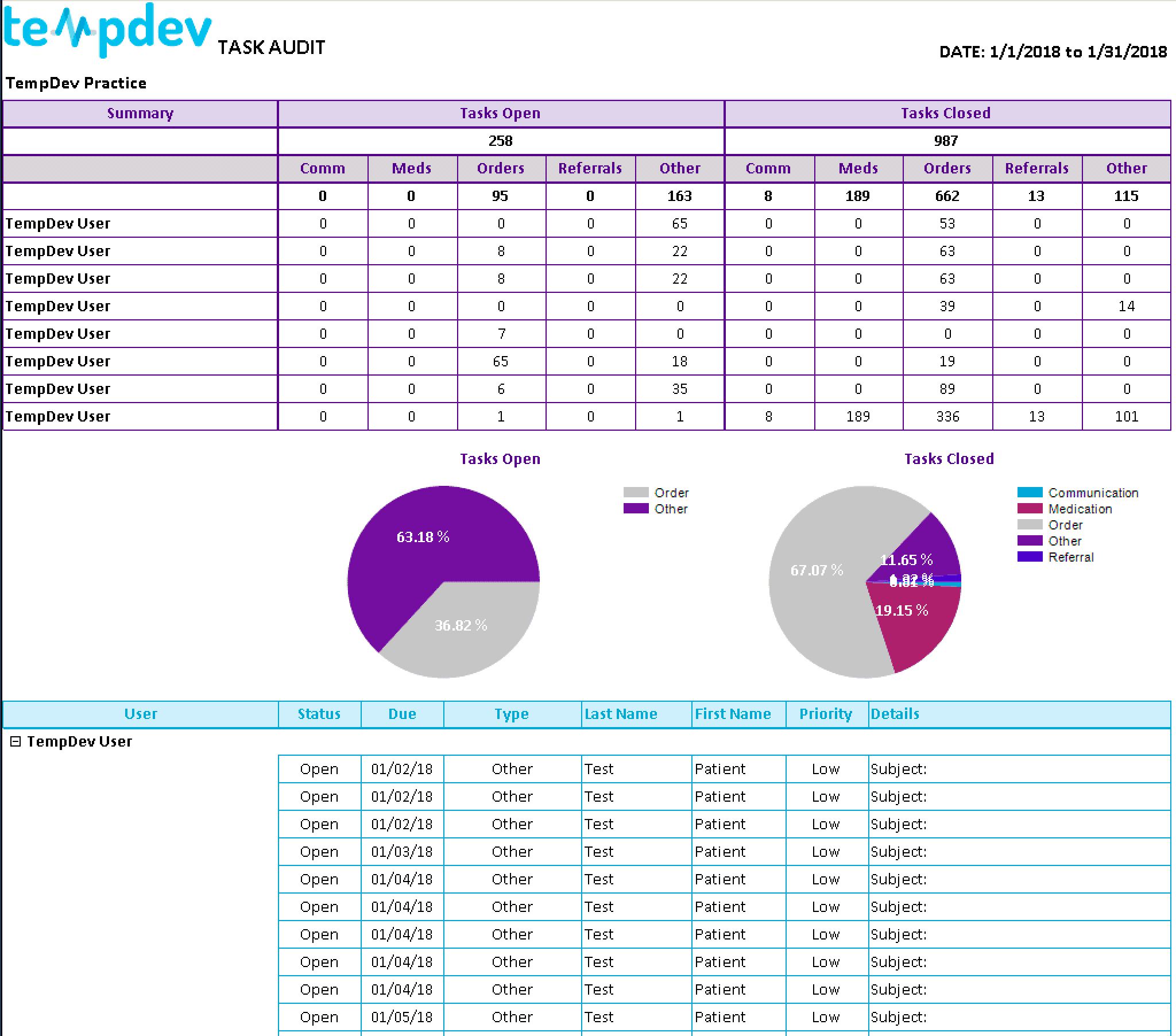 The TempDev Advantage
TempDev is your source for advanced NextGen EHR & EPM practice and physician analytics. To remain competitive in today's healthcare market, you will need to embrace advanced solutions like those offered by TempDev, an acknowledged leader in this field. Your practice will be more efficient, your patients happier, and your reimbursement process smoother when you incorporate their reports into your NextGen management process.
TempDev provides a number of proven practice management solutions. Their expert NextGen consulting team will analyze your practice and suggest customized solutions for your specific challenges. They provide NextGen support, training, implementation, template development, and project management and offer solutions for workflow and finance issues. TempDev can also provide additional NextGen staff augmentation when you need help with a special project or have a surge in the practice workload. In fact, they have consultants who are knowledgeable about every aspect of your practice. There is no management issue that they cannot address.
The NextGe EHR Tasking Audit Report is another excellent TempDev tool. Management can quickly run the report and get a complete picture of task completion. For more information on this report and other provider solutions, contact TempDev today by calling 888.TEMP.DEV or clicking here.
Interested?
Agree with our point of view? Become our client!
Please submit your business information and a TempDev representative will follow up with you within 24 hours.