Providers face a daunting amount of daily duties that is increasingly leading to 
physician burnout
. They strive to provide the most effective care possible to their patients while keeping up with all the bureaucracy needed to be reimbursed. These tasks are complicated by all the tests they order and the documentation and communication they must provide. When labs, radiology, and other patient documentation are not reviewed timely, a number of 
problems
 can arise. The provider may order tests that the patient does not have done. It is also imperative that all chart note documents must be signed off by a physician. Several organizations have failed payer & regulatory audits due to this criteria not being met. We recommend to regularly review TempDev's NextGen EHR PAQ (Provider Approval Queue) Audit Report to ensure that all orders and documentation are appropriately being managed. This convenient tool allows you to determine how many PAQ items are open and how many have been closed during the time period chosen. You can see what these items are and when they were ordered, which helps you detect possible workflow problems.
Also, tests can be done, but the results not reach the doctor, possibly resulting in critical treatment delays. Improper documentation compromises patient care and leaves your practice open to legal action. While all practices will have open orders, the percentage should remain as low as possible. TempDev recommends also running our 
NextGen EHR Open Orders Report
 to mitigate this issue.
TempDev, a leader in NextGen EPM & EHR consulting services, recommends these reports and to improve patient care and operational compliance. The report makes certain that results and documentation are not overlooked, a mistake that can have dire consequences for the patient, the provider, and the practice. Fine-tuning this process should be a priority since everyone involved benefits from the timely completion of these items. Contact us to begin the discussion about what analytics would work best for your practice.
NextGen PAQ
Practice & Provider Report Data
TempDev designs its software solutions to provide important data in an easy-to-absorb form. All of their reports let you see the big picture of practice efficiency. The NextGen EHR PAQ Audit Report, written in Microsoft SSRS, is no different. It contains information about the practice at large as well as individual provider data. The practice and provider categories include the number of open NextGen PAQ items for: orders, ICS images, documents/chart notes, reports, and HIE. This breakdown lets you determine if certain items are routinely remaining open for an extended period. You can also find out which items are dealt with the most efficiently, such as imaging or reports.
Bold graphs accompany the line data, illustrating the open and closed PAQ percentages for documents, ICS, and orders. You can determine at a glance how well the practice is managing the NextGen Provider Approval Queue. You'll be able to see which providers are having difficulty promptly closing their items. You can also determine if the practice at large has a troublesome backlog in this area. By using this report, you can prevent serious lapses in patient care and follow-up. You can also spot which providers are most efficient in this area and promote their methods to others. This data lets you show providers how they stand in relation to the others in your practice, which can be an opening for communication and a motivational force for improvement. It is also an opportunity to understand who to focus on for re-training on the PAQ and compliance.
NextGen PAQ Patient Data
The patient section of the report gives you in-depth information on open NextGen PAQ tasks. You'll get in-depth data for each patient item that includes the following information:
Item Status - Whether it is open or closed

Resulted date

Item Type:

Orders (Labs, Radiology)

ICS images 

Patient Documents (chart notes, admit notes, discharge notes)

Reports

HIE documents

Patient Name

Description of the order including:

Document name

Lab result names

Radiology type

Ordered date
This data allows you to identify weaknesses and strengths in your office system and for individual providers. You'll be able to determine what sort of items are closed promptly and which are causing delays. Certain providers may have more items open than others due to the nature of their practice. Others may be having issues due to a flaw in office management procedures or staffing. This report allows you to analyze any potential problems and correct them. You will also be able to show your providers hard data, which is more likely to inspire change. By using the report, your patients will receive faster and better care and experience higher levels of satisfaction. Your providers will spend less time frustrated by bottlenecks in the system, which allows them to focus on what they do best: taking care of patients.
Too many open PAQ items can quickly become an issue for any practice because important tasks fall through the cracks. With the NextGen EHR PAQ Audit Report, you'll be able to better monitor this critical aspect of your medical practice without spending hours amassing the pertinent statistics.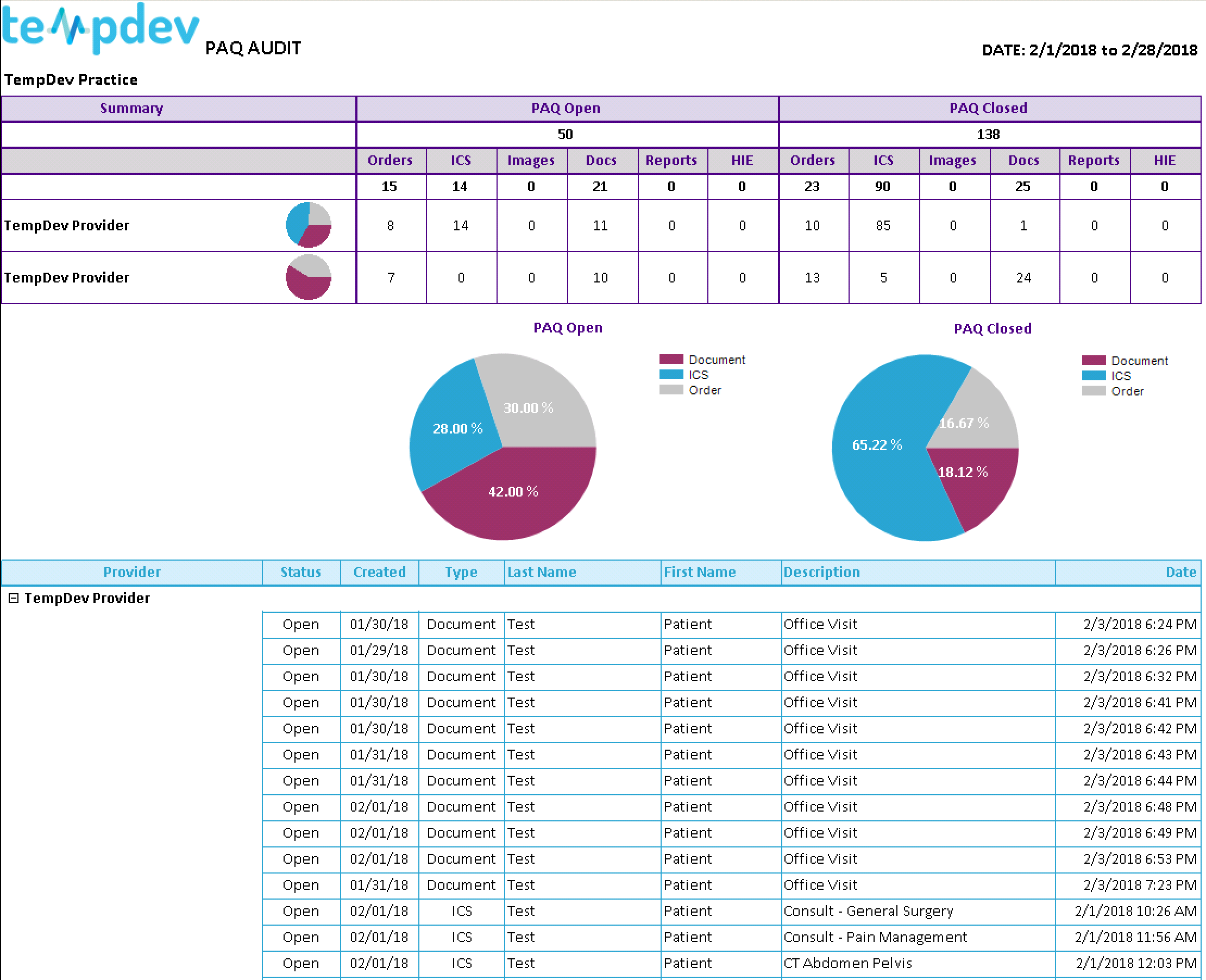 NextGen PAQ Performance
A large number of unapproved items in the NextGen PAQ can cause serious system performance degradation. The performance issues are not just related to the provider who is not maintaining their PAQ, but it affects all other users of the NextGen EHR system. Being proactive and regularly monitoring PAQ compliance can assure you of a much more smoothly running NextGen. If you are suffering from this performance issue, TempDev has worked with several clients to come up with custom solutions to better manage their physician's PAQs. 
The TempDev Advantage
Managing an active medical practice requires staying current with advances in the industry, and using the right software and solutions is essential to staying competitive in the field. TempDev offers you the latest software offerings, including products that optimize your NextGen experience. TempDev works with your practice to determine what management tools you need. They also provide training and other management support so that your practice is as efficient and profitable as possible.
TempDev works with practices of all sizes and specialties, which means you get individualized attention. Their skilled team of 
NextGen consultants
 contains experts on all aspects of EHR & practice management, including workflows and creative collaborations.
The NextGen EHR PAQ Audit Report is just one effective management tool that TempDev recommends. It is written in Microsoft SSRS and can easily be migrated to a business intelligence solution, including Microsoft Power BI. This report helps you keep your practice running at the highest efficiency level. You and your providers will be able to stay on top of their NextGen PAQ items so that patients get the high level of care that they deserve. Call us at 888.TEMP.DEV or contact us here to talk through the right reporting solutions for you.
Interested?
Agree with our point of view?
Become our client!
Please submit your business information and a TempDev representative will follow up with you within 24 hours.