Efficiency challenges are among the most complex issues facing the medical community today. Management, providers, and patients are all affected by these process issues. That's why every medical practice needs in-depth data on all aspects of the treatment it provides. You need to be able to evaluate how the practice is performing overall as well as gaining insight into specific provider methods. One way to do that is through the usage of NextGen Clinical Audit EHR Report, an important Microsoft SSRS report recommended by the 
NextGen consulting experts
 at TempDev.
This report gives you vital information on your patient appointments, including E&M stats, appointments with documentation, and whether documentation has been created. You can use this information to evaluate how your team handles patient assessment, documentation, and E&M coding. You can then find ways to improve current practices and enhance patient satisfaction on the practice, location, and provider level.
NextGen Clinical Audit Practice & Provider Level Data
Each Clinical Audit NextGen EHR Report gives practice totals for appointments and then breaks them down into additional helpful categories. You'll see the number of appointments that have been coded with an E&M code, appointments without E&M, appointments with documents, and appointments without documents. For many practices, the visits will be billed with an E&M code, either for a new or established patient. A quick glance at these figures and accompanying charts will let you determine the percentage of patient visits that have been coded.
Under the practice heading, you will also find the same stats for the individual providers. These figures may vary due to provider specialty or reflect unusual coding practices by one or more physicians. If you have concerns about the coding pattern, you can easily look at more detailed data under the provider section. This information gives you a clear snapshot of the practice's appointment and coding types.
NextGen Clinical Audit
Patient Level Data
The patient level entries allow you to analyze in-depth information for individual providers. The provider categories include the following for each visit the provider had:
Encounter Number

Patient Name

Appointment Date

Appointment Time

Appointment Type

Financial Class

E&M Code

Other CPTs

Patient Diagnosis Codes

HCC Codes

Document Generated

Document Date
This information helps you make informed assessments about the patient care provided in your practice. You can use this detailed data to better communicate with each of your providers about their appointment billing and other vital issues.
The report was designed to allow administrators to have a quick overview of the main functions a physician needs to complete for a visit. It is also helpful for billers to use to make sure that the appointment is completed codified (CPT, HCPCS, and ICD10s), and documentation is created. This is helpful for organizations which require that documentation is complete before releasing a claim to the payor.
The E&M code section lets you verify that an E&M code was billed for each visit; you can also audit what types of codes are being billed for the varying event types. This information can help you determine the current health of the practice and give insight into future patient rolls. You'll also be able to see what other CPT & HCPCS codes are being used for visits in addition to both patient diagnostic codes. The report gives you insight into whether any HCC codes were billed for your complex Medicare Advantage patients to improve your RAF scores. You can then determine if this data falls within expected ranges or if something seems unusual about the assigned codes. The report helps you catch potential problems early.
Accurate record-keeping is an essential task in every medical practice. This report tells you if a document was created for each patient visit. Your billing department can then audit the file to verify the presence of a chart note before submitting a claim.
During most office visits, a chart note should be generated. This is also helpful in case of a payor audit or medical record request. The Clinical Audit NextGen EHR Report lets you see how many times a chart note was not created for a patient appointment. A high number in this category is a cause for concern since it can affect patient health as well as medical claim reimbursement. This report lets you take prompt corrective action if necessary.
The provider section also lets you see the patient's financial class so you can make a quick estimate of reimbursement times and levels. You'll be able to see if the patient has Medicare, Medicare Advantage, Medicaid, commercial, or no insurance at all. The HCC code section gives you insight into individual patient risk levels and helps you improve your RAF scores.
This report is easy to understand and use, so you don't have to spend hours analyzing data. In addition, it is written in Microsoft SSRS, and it can be easily ported to a 
NextGen Business Intelligence
 solution such as Microsoft Power BI. It is easily adaptable for almost any practice, large or small. Overall, the Clinical Audit Nextgen EHR Report is a fast and accurate way to understand how coding and charting processes are affecting your practice. In particular, you will realize how well-documented visits are and whether retraining is necessary.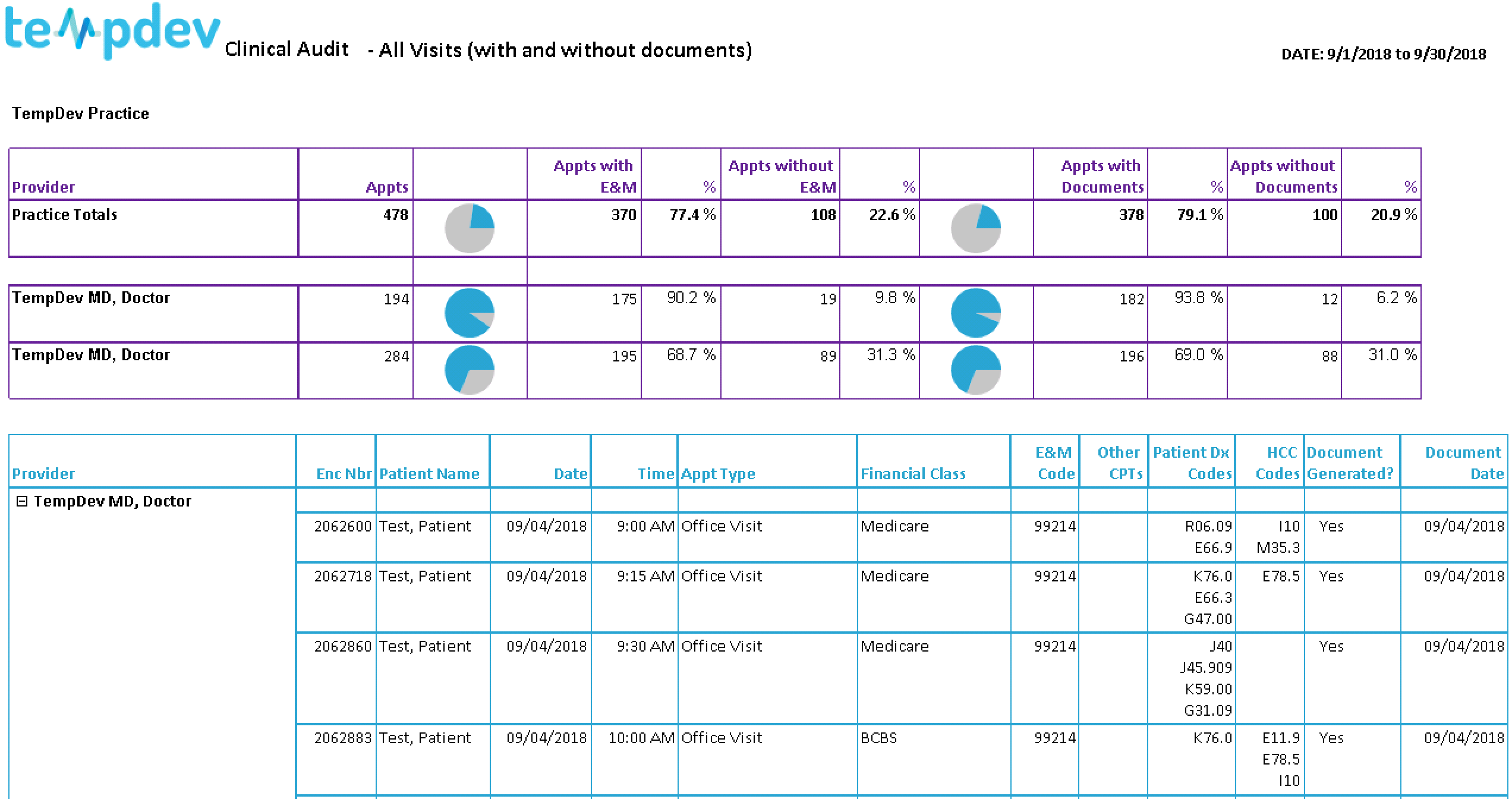 The TempDev Advantage
TempDev offers outstanding NextGen EPM & EHR consulting services and solutions. Their experienced consultants are experts on current medical management challenges as well as those on the horizon. In fact, they can help you use the Clinical Audit NextGen EHR Report to prepare for the 
2021 changes to E&M codes
 so that you avoid billing and reimbursement difficulties as well as staff frustration. By using this report, you will be able to estimate how many claims will be affected by these CMS changes and educate your staff now.
Since every medical practice is unique, TempDev will analyze your specific needs, recommend the best product solutions, and offer ongoing NextGen support and advice. By using TempDev, you can ensure your practice remains competitive, efficient, and profitable. Most importantly, your patients will experience a higher level of satisfaction due to an enhanced level of care.
The Clinical Audit NextGen EHR Report is a sophisticated tool that provides valuable data in an easy-to-digest form for you and your staff. Contact TempDev today at 888.TEMP.DEV or here to improve your practice now and to begin preparing for upcoming physician management challenges.
Interested?
Agree with our point of view?
Become our client!
Please submit your business information and a TempDev representative will follow up with you within 24 hours.