Your practice running a flu vaccine clinic provides a vital community service. However, appropriately documenting and billing for a high volume of flu vaccines is time-consuming. That's why TempDev developed the Flu Vaccine Clinic NextGen EHR Template. This template will reduce the time you spend documenting and billing for flu vaccines, letting your flu clinic see more patients, faster.
With flu season fast approaching, now is the time to get started setting up your flu clinic in NextGen EHR. TempDev stands ready to help with the updated Flu Clinic NextGen EHR Template 2.0. Built to work seamlessly with the latest NextGen EHR versions, this easy-to-use template will save your practice time and money. 
Here is how TempDev's NextGen EHR Flu Clinic Template can help your practice.
The Benefits of the Flu Clinic NextGen EHR Template
The Flu Clinic Template works seamlessly with your NextGen EHR. These are just a few of the benefits of this TempDev template:
Top 5 Reasons To Use The NextGen EHR Flu Clinic Template
Stop Opening Individual Patient Charts
Your NextGen EHR can make your practice more efficient and effective. But opening individual patient charts to document vaccine administration can slow down your flu clinic operations. TempDev's NextGen EHR Flu Vaccine Clinic Template was designed with your practice in mind. The Practice Template lets you record vaccinations in just three to five clicks per patient without opening a single patient chart. Your clinical staff can simply search for patients by name and record their vaccination encounters without ever leaving the template.
The Flu Clinic Template lets you quickly add clinical documentation for all the flu vaccines you give in your practice. This ensures fast reimbursement and accurate quality reporting. It also helps you provide better patient care. The template includes separate vaccine checklists for pediatric and adult patients, helping your staff adhere to flu vaccination guidelines. It also lets your nurses review and make updates to common allergies so they can address and avoid potential adverse reactions before they administer a vaccine. 
This easy-to-use template will improve productivity and help your flu clinic reach more members of your community. To ensure your flu clinic runs as smoothly as possible, TempDev has created Flu Clinic training videos for the template. Studies have shown that EHR training can help prevent EHR-related burnout and improve productivity. With TempDev's on-demand Flu Clinic Template training videos, you can increase adoption of the template and get staff ready to administer and bill for flu vaccines more quickly. TempDev eases your training burdens by publishing Administrator & End User workflow guided NextGen training videos and keeps them regularly updated.  
NextGen EHR Flu Clinic Template Screenshots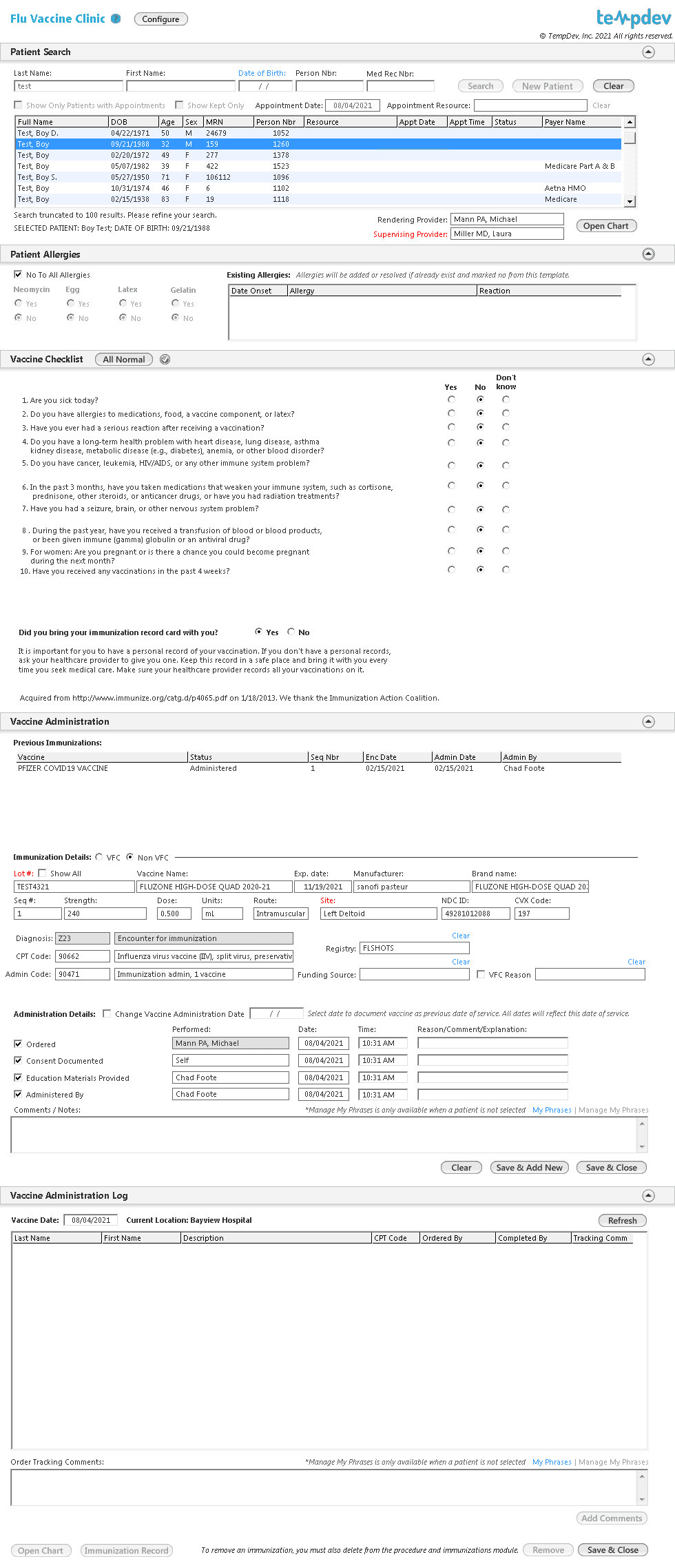 NextGen Flu Clinic NextGen EHR End User Training
Bill for Vaccines Administered in Your Flu Clinic with Ease
TempDev's Flu Clinic NextGen EHR Template also helps ease the complications of flu vaccine billing. The template lets you set separate billing defaults for pediatric and adult patients. It also includes pre-configured billing options for the Vaccines for Children (VFC) program and Medicare. With just a few clicks, you can document flu vaccines and bill payers for both the vaccine and administration codes. 
The NextGen EHR Flu Clinic Template helps you bill both immunization and administration codes more accurately. In the Configuration Template, you can create a default list of the vaccines your clinic will be administering. Then, when a provider administers a vaccine, they can select the appropriate manufacturer and dose. This automatically generates the correct administration and immunization billing codes. By setting defaults in the Flu Clinic Template, you can reduce billing errors and denied claims by getting your flu vaccine billing right every time. Regardless of payer and age, the Flu Clinic Template ensures you have the documentation you need to get reimbursed.
The template also helps you maximize reimbursement by increasing your quality scores. Payers like Medicare and Medicare Advantage groups increasingly rely on quality measures to adjust payments or determine bonuses. The template keeps an accurate, up-to-date list of all flu vaccines administered at your practice sites. You can use this data to meet quality reporting requirements like those in HEDIS and Medicare's Quality Payment Program (QPP). For example, with data from the template, you can easily calculate the share of patients who visited your practice between October 1 and March 31 who received a flu vaccine. 
NextGen EHR Flu Template Configuration Template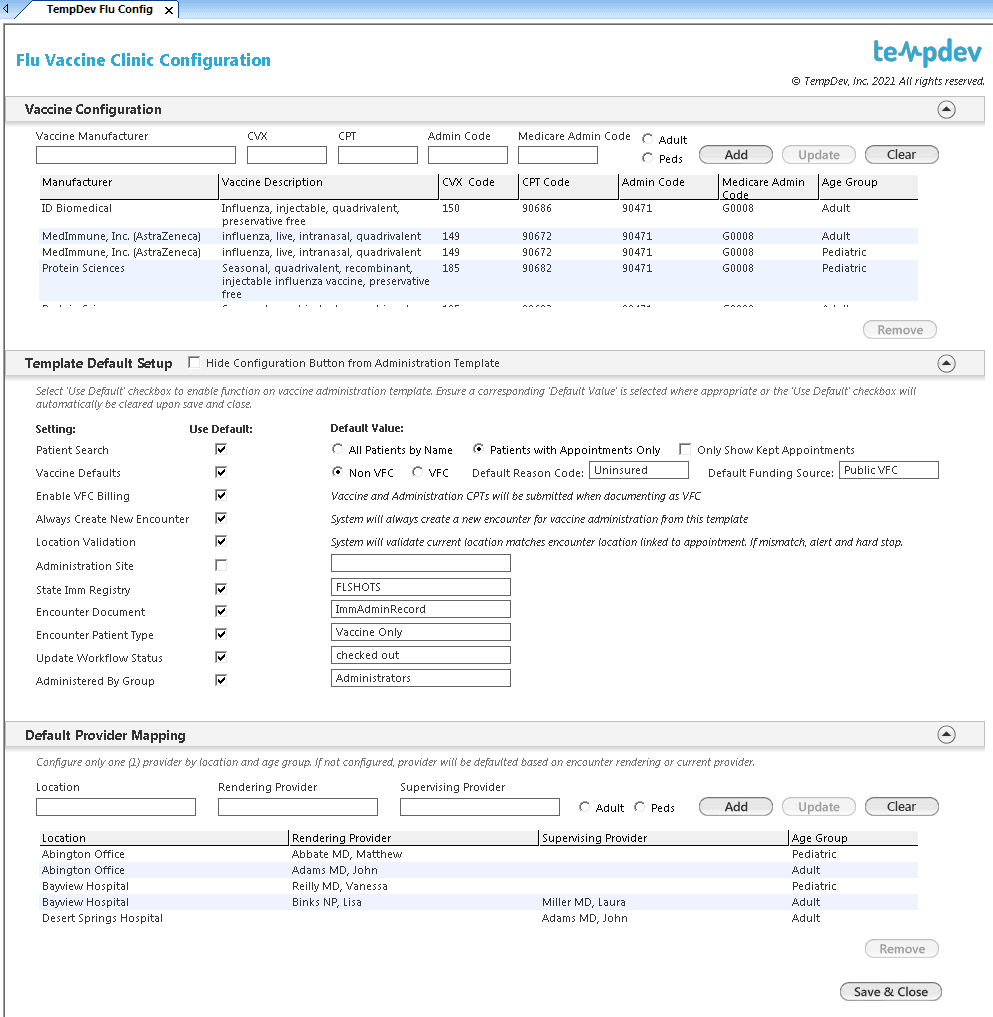 Seamlessly Integrate Your Flu Clinic Operations with NextGen Vaccine Inventory Tools
TempDev's NextGen EHR Flu Clinic Template integrates with other NextGen tools for vaccine tracking and reporting. You can use the template in conjunction with NextGen's Vaccine Inventory to track vaccine usage seamlessly by provider and site. This will help you manage your vaccine inventory. You can also identify sites with an insufficient or over-supply of flu vaccines and adjust your supply chain accordingly. 
The Flu Clinic Template works alongside NextGen's Immunization Registry Interfaces the same as entering a vaccine in the Immunization Module does. These tools help you comply with state and federal public health reporting requirements.
Your vaccine clinic is an important resource for preventing flu hospitalizations and deaths, and the Flu Clinic Template, combined with NextGen Vaccine Inventory tools, helps you fulfill that role. 
How TempDev Can Help You Set Up Your Flu Clinic
TempDev's NextGen consultants, trainers, and developers can help make your practice's flu clinic more efficient and effective. TempDev can install the NextGen EHR Flu Clinic Template, customize it to your practice's needs, and provide targeted training to your staff. Our consultants can also support workflow redesign to help your practice integrate your NextGen EHR into your flu clinic operations. If your practice is administering COVID-19 vaccines alongside flu vaccines, TempDev has also developed an easy-to-use COVID-19 Vaccine Clinic Template NextGen EHR Template.
Want to know more? Call us at 888.TEMP.DEV or contact us here to schedule a demo of our NextGen EHR Flu Clinic Template.  
Interested?
Agree with our point of view? Become our client!
Please submit your business information and a TempDev representative will follow up with you within 24 hours.