Electronic Health Records (EHRs) and Electronic Medical Records (EMRs) have many benefits over paper medical records, including improving the efficiency and quality of care you provide. However, many EHR and EMR capabilities go unused by clinicians and groups. EHR dashboards can help you unlock your EHR's potential without a significant investment in staffing or training. With an EHR dashboard, your practice does not need in-house analytic expertise to bring together scattered data. Dashboards automate common analytic processes, helping you get the most out of your EHR. Here are four benefits of EHR dashboards.
EHR Dashboards Bring Together Scattered Data 
Your EHR captures far more information about your patients and practice than is always readily available. With the proper tools in place, your EHR system can help you quickly identify problem areas in your practice, show your progress toward quality goals, and alert you to possible errors. However, aggregating data across multiple tables or multiple patients to see trends can seem daunting. EHR dashboards do the hard work of data aggregation for you. With one click, a dashboard or business intelligence can show you a wealth of information about your practice and your patients. By implementing EHR dashboards, you can help your practice keep track of critical trends and measures easily, without the need for in-house analytic capabilities.
EHR Dashboards Can Save Your Practice Time and Money 
EHR dashboards can help you track key performance measures for your practice, show you where you are succeeding, and focus your improvement efforts. For example, TempDev's NextGen EHR Dashboard gathers and displays important provider metrics like outstanding labs, radiology results, prescriptions, provider audit quality (PAQ) items, and appointments. With these measures updated in real-time and displayed side-by-side, you can see trends in key measures like open orders, prescriptions, and canceled or no-show appointments across physicians, illuminating patterns, and problem areas.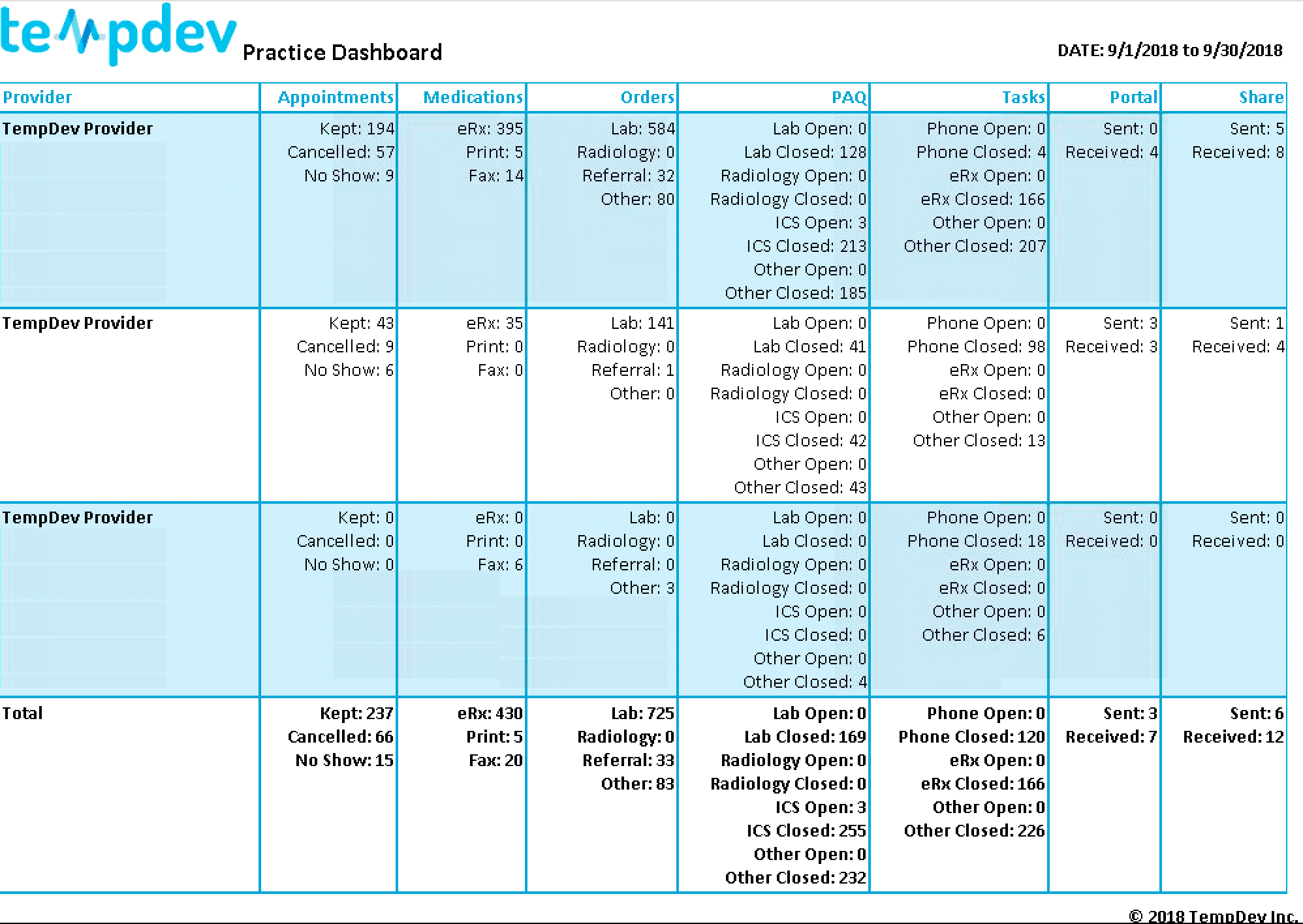 Additionally, TempDev's NextGen Revenue Cycle Dashboard lets your practice keep track of key business metrics like charges, payments, adjustments, and denials. You can easily review total payments by an insurer, accounts receivable by days overdue, or trends in denials, helping you make business decisions.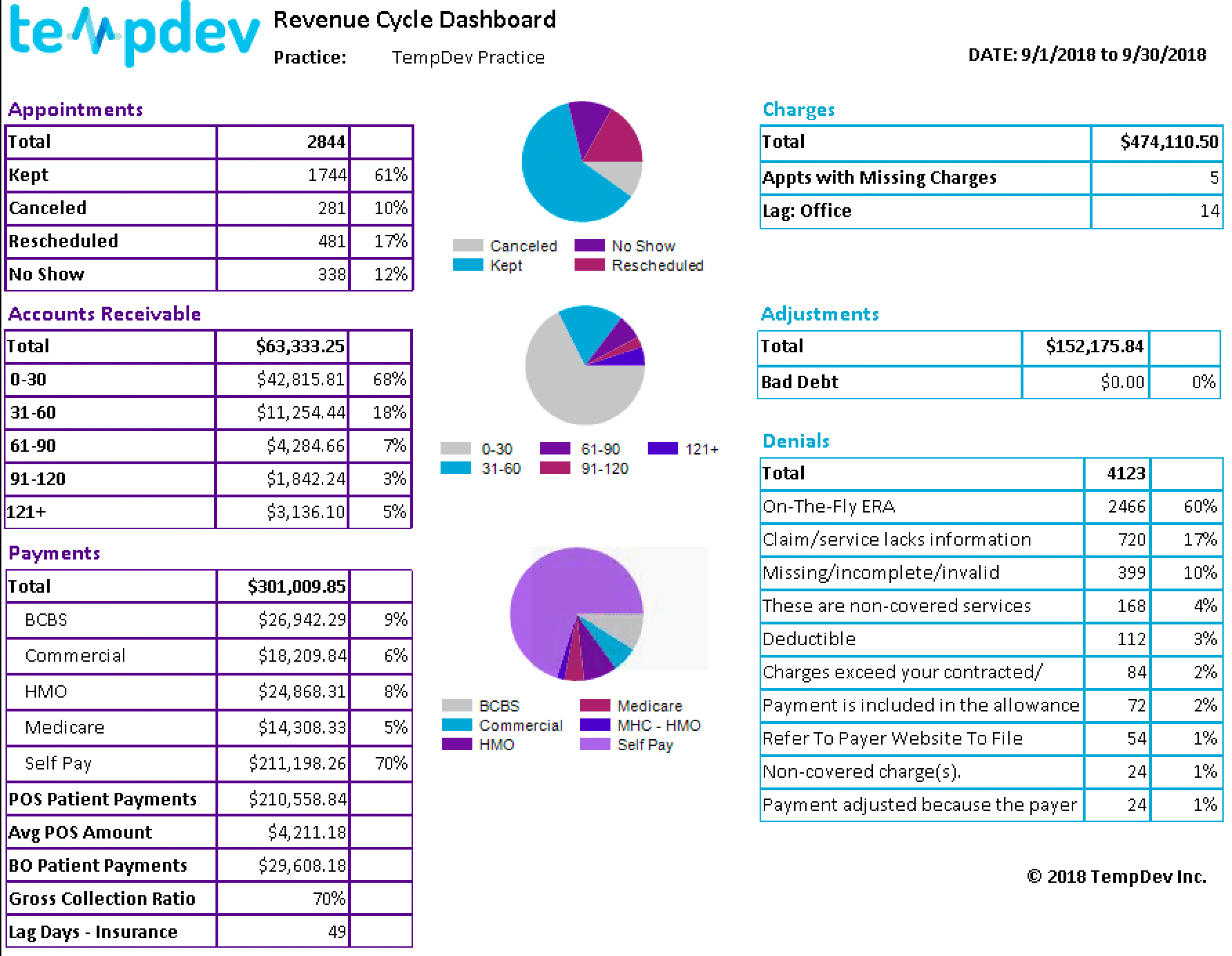 EHR dashboards save your practice significant time and money relative to in-house analytics. Also, dashboards can quickly raise bottlenecks and gaps to your attention, allowing your practice to fix problems early before they become entrenched.
EHR Dashboards Can Help You Improve Quality Scores
Most practices engage in some form of quality reporting, either through the Medicare Quality Payment Program, in Accountable Care Organizations, or for private insurers. EHRs can substantially reduce the time and effort you spend generating quality measures for these programs. They can also help you track quality measures throughout the year, allowing your practice to see areas for improvement before it's too late. For example, TempDev's NextGen Quality Dashboard can evaluate your practice's performance on an array of quality measures tailored to your quality performance programs. This includes quality measures like HEDIS and UDS, measures specific to your Accountable Care Organization, or measures required under Medicare's Merit-based Incentive Payment System (MIPS).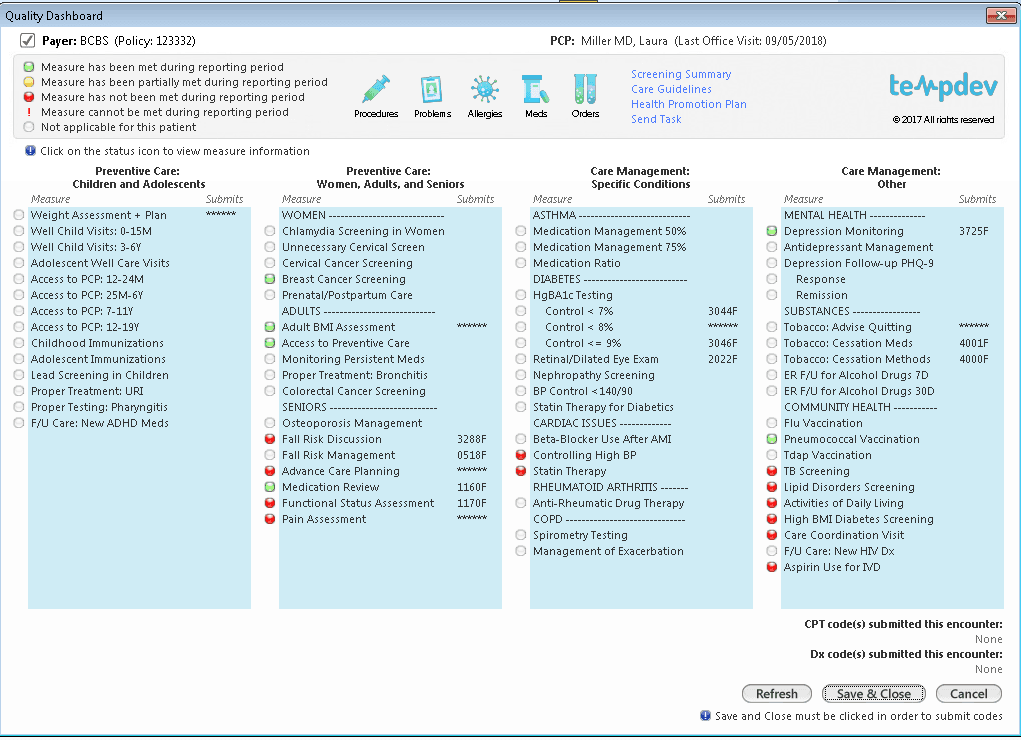 By regularly reviewing and tracking quality measures with an EHR dashboard, you can see lagging measures in real-time and work to improve them. This rapid cycle of tracking and improvement will help you improve your overall quality scores, preserving your eligibility for quality bonuses or payment adjustments.
Dashboards Can Serve as an Early Warning System
You can also use EHR dashboards to serve as an early warning system for problems in your practice. Studies have shown that EHRs can reduce medical errors by automatically flagging medication interactions, potentially inaccurate prescriptions, and deviations from guidelines-based care. Using a dashboard, your practice can stay up-to-date on aggregate trends in prescribing, orders, and patient follow-up. By observing trends in open orders, for example, you may be able to identify and resolve communications problems with laboratories and consulting physicians. Dashboards can help you see overall patterns in your practice by specialty, location, or physician, highlighting areas for rapid intervention.
EHR dashboards can also help you identify patient flow problems in need of immediate improvement. For example, TempDev's NextGen Patient Tracking shows patient flows across the entire visit, including average patient wait times by practice, location, and provider. Rapidly increasing wait times or bottlenecks in patient flow could signal workflow problems. By identifying these problems quickly, you can pursue solutions before the issue becomes entrenched, minimizing costs and harm to your practice.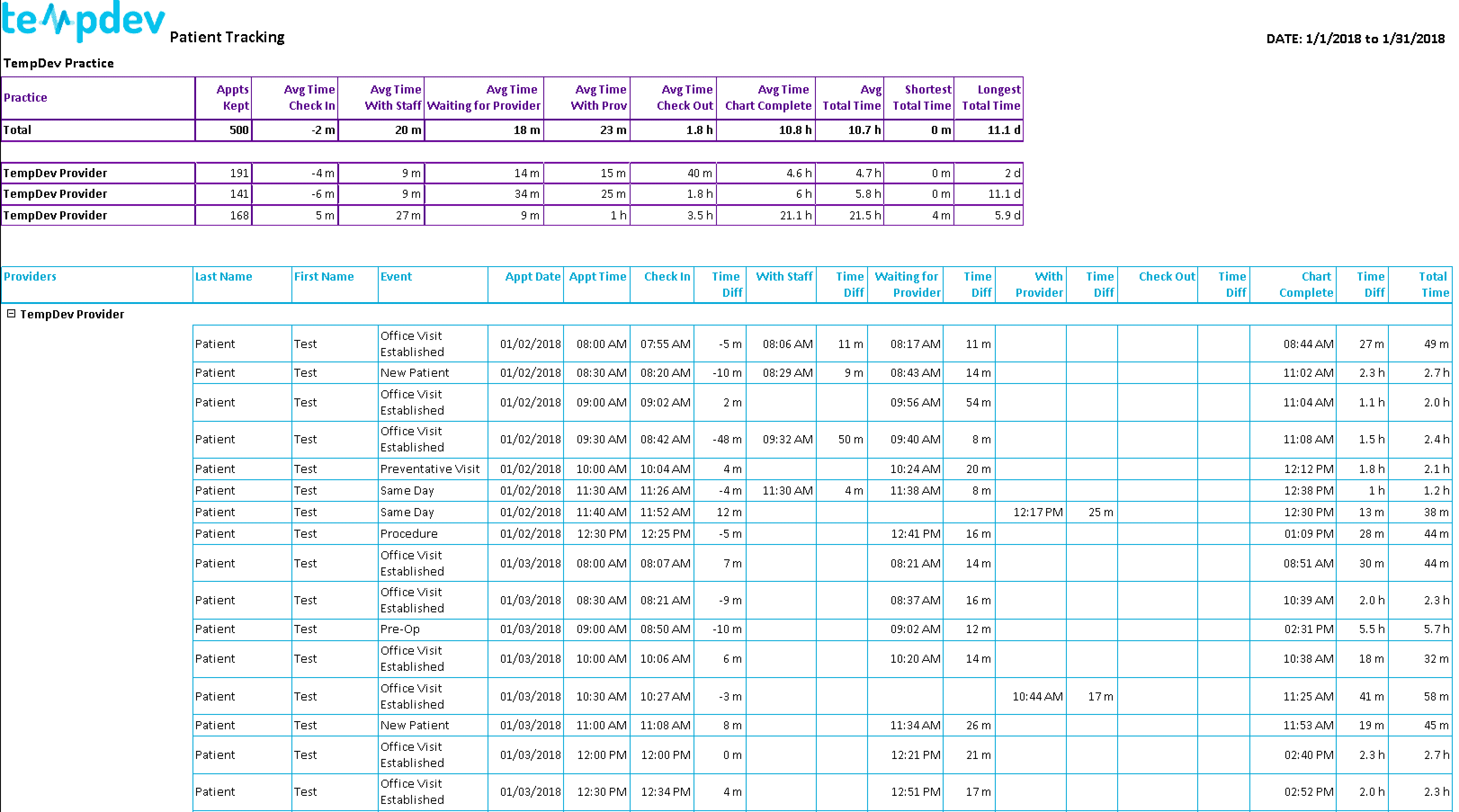 How TempDev Can Help
TempDev's NextGen consultants have deep experience helping clinicians and groups implement NextGen EHR dashboards. TempDev also has a broad suite of NextGen templates and reporting solutions to fit your practice's needs. TempDev consultants can also help you optimize workflows to improve patient care, reduce costs, and meet or exceed quality goals.
Call us at 888.TEMP.DEV, or contact us here to get started improving your NextGen experience.
Interested?
Agree with our point of view? Become our client!
Please submit your business information and a TempDev representative will follow up with you within 24 hours.