Electronic Health Records (EHRs) and Electronic Medical Records (EMRs) can significantly improve your practice's productivity and efficiency. However, to get the most out of your EHR, you need to do more than enter patient data. EHR dashboards are one tool for tracking and visualizing the overall performance of your practice. Here is how you can boost your productivity with high-quality NextGen EHR dashboards from TempDev.
What are EHR Dashboards?
EHR dashboards are reports and NextGen templates that bring together data from across your EHR system to show you high-level metrics for your practice, locations, patients, and providers. EHR dashboards put real-time information at your fingertips, helping you see and respond to bottlenecks and inefficiencies quickly. With dashboards' visualization and summary tools, you can quickly access and digest critical information about your practice's performance.
Increase Productivity with Practice EHR Dashboards
TempDev's NextGen Practice Dashboard provides key practice performance measures in an easy-to-digest format. By regularly tracking and assessing the practice KPIs included in the dashboard, you can identify inefficiencies and improve your productivity. For example, the Practice Dashboard summarizes open and closed orders, so providers do not need to open individual patients' records to check for outstanding lab or test results. This saves providers time, and it allows your practice to assess patterns in open orders to help reduce response times and minimize lost orders. This not only improves patient care, but also will help you improve your quality scores in programs you are participating in.
With the Practice EHR Dashboard, you can also see trends in completed, canceled, and no-show appointments, improving your scheduling practices and increasing patient throughput. It also tracks the number of prescriptions written by each provider in your practice, as well as outstanding e-prescriptions, phone messages, and electronic communications. Providers in your practice can easily see how they compare to their peers, and they can quickly check for and complete outstanding tasks without combing through individual patient records. Administrators can see how all their practices and providers are utilizing NextGen EHR functionality across the NextGen enterprise with a quick glance.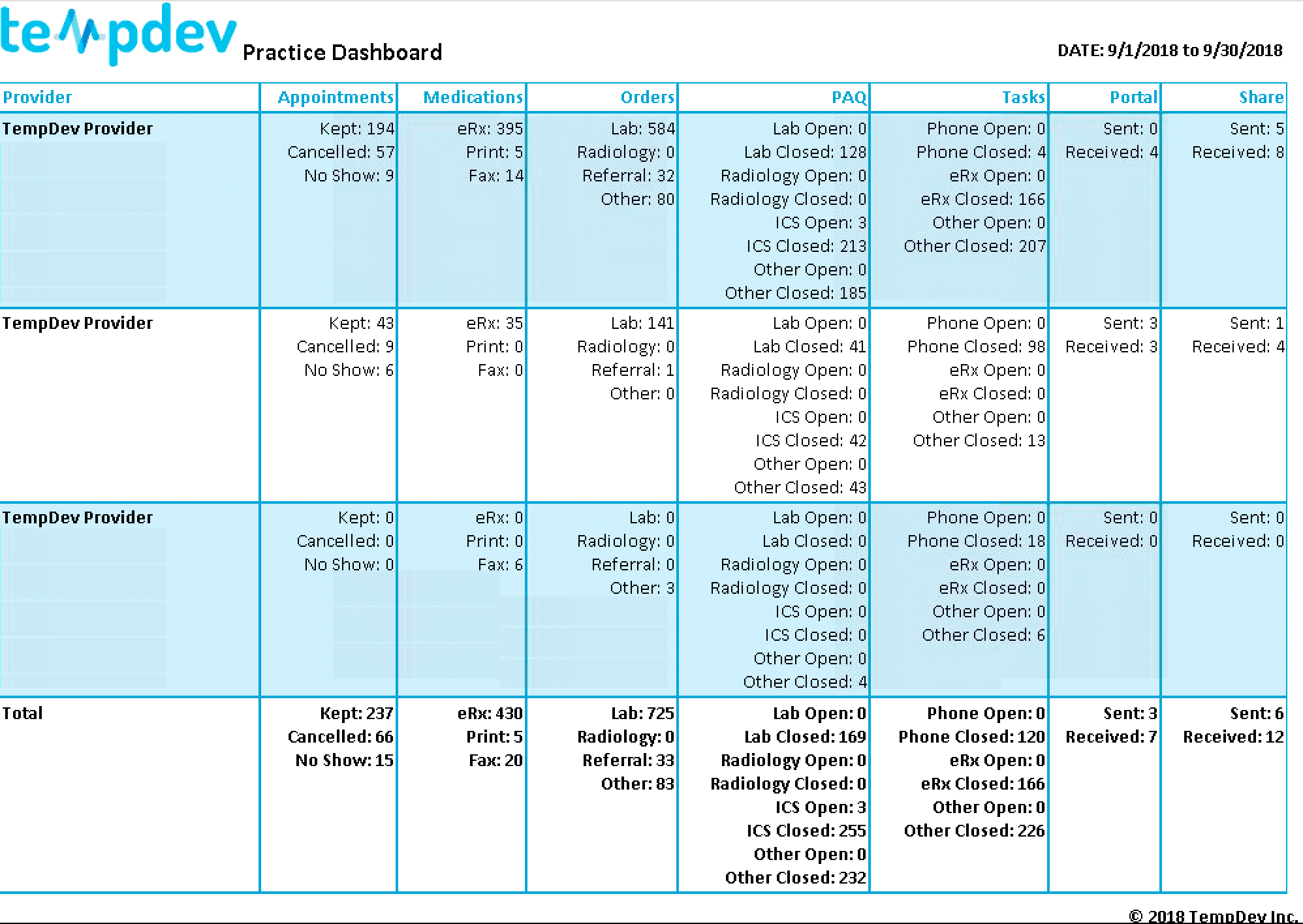 Track Revenue with a Revenue Cycle Dashboard
TempDev's NextGen Revenue Cycle Dashboard summarizes vital business metrics in one place, allowing you to quickly access an overview of your practice's business performance in real-time. For example, the Revenue Cycle Dashboard shows accounts receivable by days overdue, helping you efficiently track late payments. You can also keep track of charges, payments, and adjustments overall and by payer to help you make business decisions. The Revenue Cycle Dashboard also provides real-time data on claims denials. Having this information can boost your productivity by showing you the insurers and types of claims most likely to result in denial, helping you optimize your coding and billing workflows.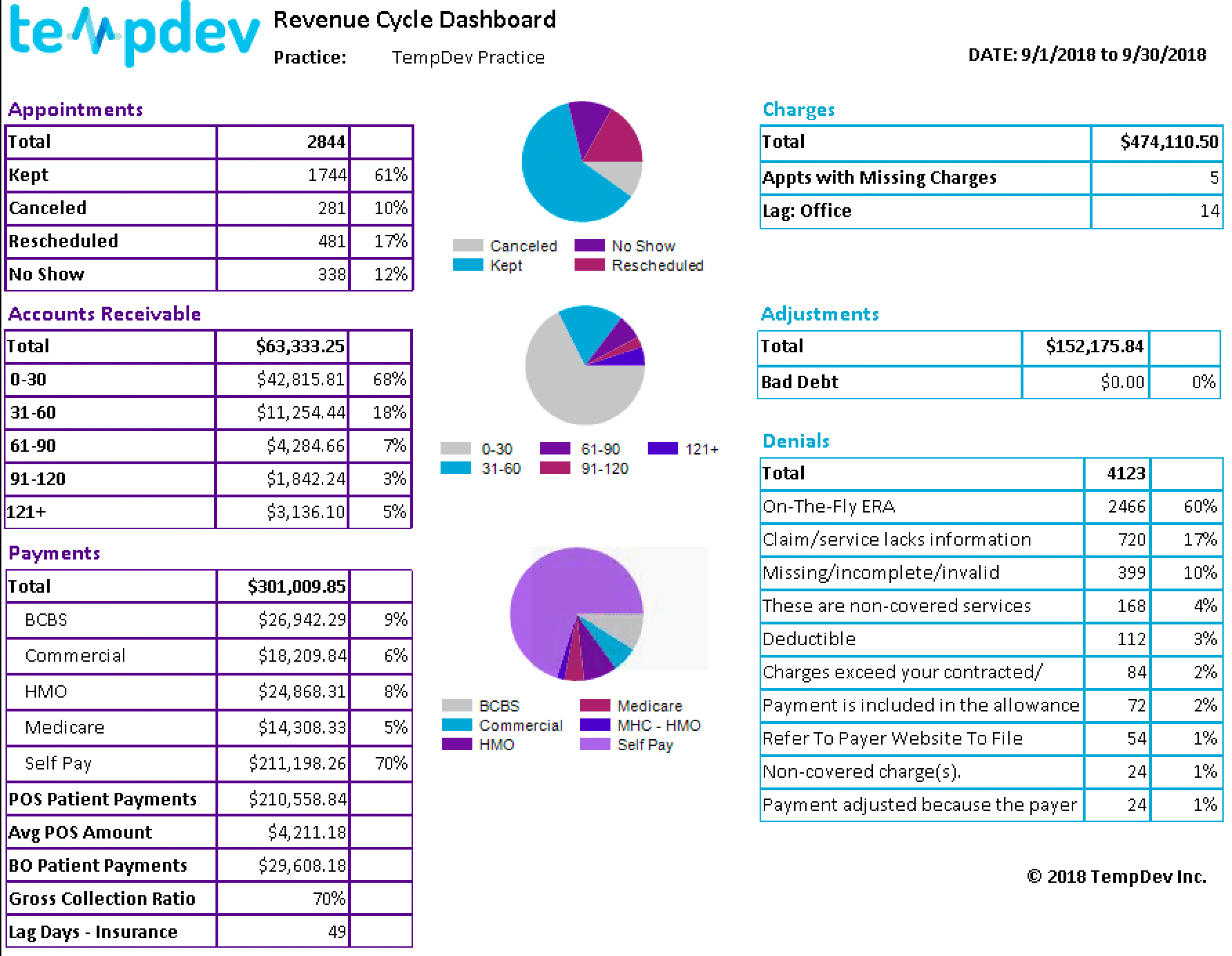 Improve Efficiency with Patient Tracking
The TempDev NextGen Patient Tracking Dashboard is designed to help you identify bottlenecks and inefficiencies in your patient flow. The Patient Tracking Dashboard shows you the average, minimum, and maximum time patients spend in your office between check-in and check-out. The average total visit time is also broken down by task, allowing you to see where you can improve patient throughput or eliminate pain points for patients and providers. For example, the Patient Tracking Dashboard shows the average amount of time patients spend checking in for their appointments. If check-in time is significant, your practice could potentially reduce it by introducing check-in kiosks.
The dashboard also shows the average waiting room time and the average time waiting in an exam room for a provider. Long wait times can reduce patient satisfaction, potentially affecting quality scores and reimbursement. If long wait times are a chronic problem for some of your practices or providers, better appointment scheduling could reduce patient in-office time, improving your practice's efficiency.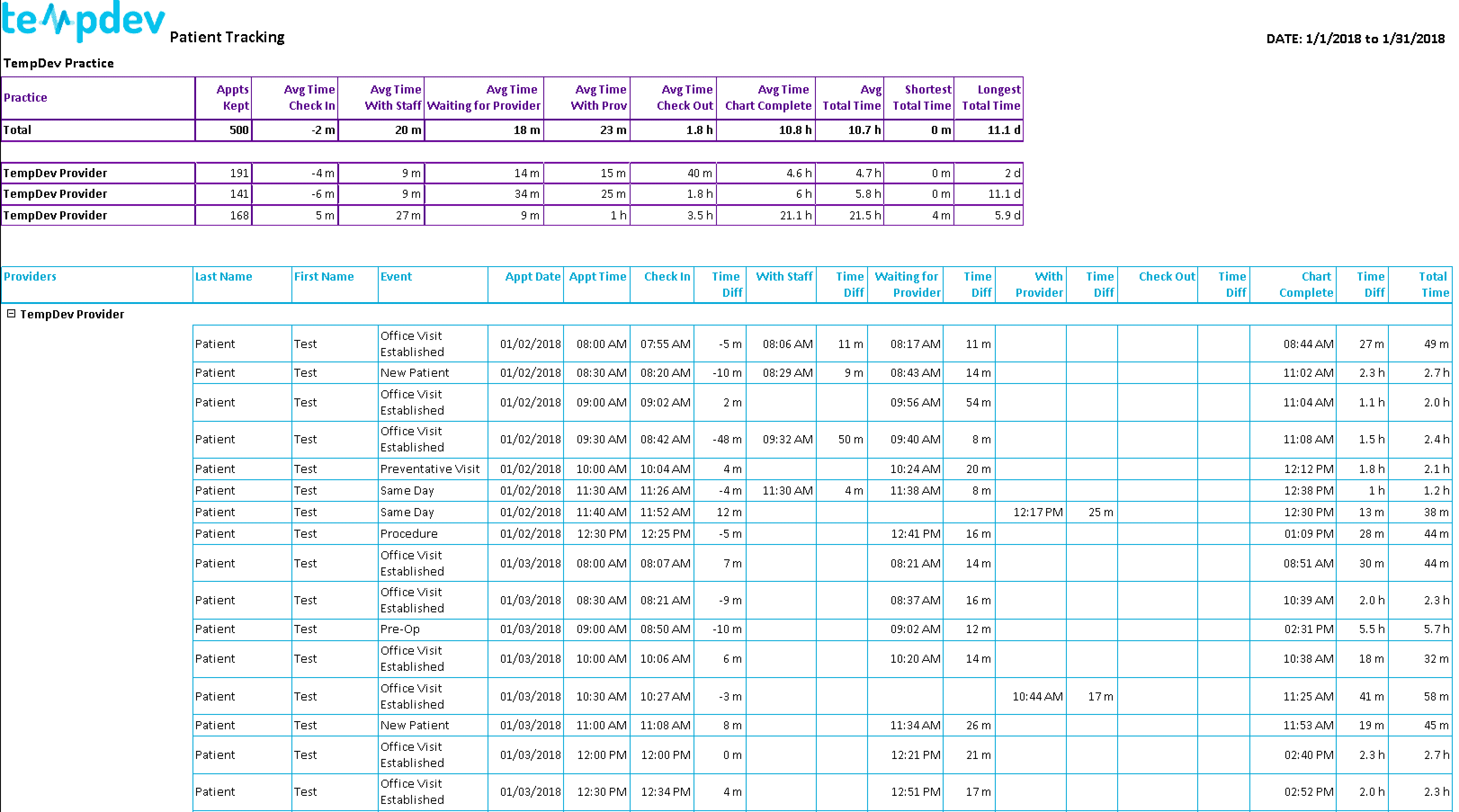 Monitor Quality with a Quality Dashboard
Monitoring and improving the quality of care your practice provides is increasingly essential. Programs like Medicare's Quality Payment Program, Accountable Care Organizations, and value-based purchasing programs require extensive quality reporting. TempDev's NextGen Quality Dashboard can substantially reduce the time and effort you spend monitoring and generating quality measures for these programs.
The Quality Dashboard can be customized to the specific quality measures used by your practice. For example, the Quality Dashboard NextGen EHR template can help you track and report HEDIS measures, UDS measures, quality measures specific to your Accountable Care Organization (ACO), or quality measures required by Medicare's Merit-based Incentive Payment System (MIPS).
The Quality Dashboard doesn't just help with reporting. By putting up-to-date data on healthcare quality at your fingertips, you can see where you need to improve. Addressing any gaps in care with quality measures at the point of care will help you improve patient care and help ensure you remain eligible to receive quality bonuses and payment adjustments.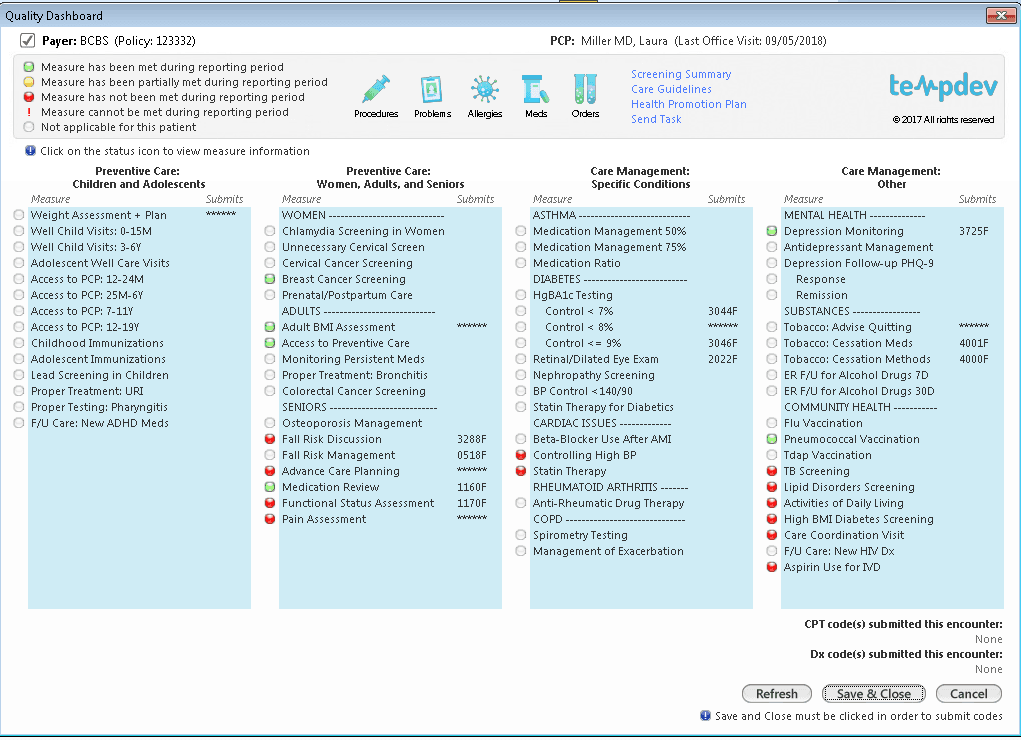 How TempDev Can Help
TempDev's NextGen EHR dashboards can be customized to fit the needs of your practice. TempDev NextGen consultants can also help you redesign workflows to improve efficiency and meet quality goals.
Call us at 888.TEMP.DEV, or contact us here to get started boosting your productivity with NextGen EHR dashboards.
Interested?
Agree with our point of view? Become our client!
Please submit your business information and a TempDev representative will follow up with you within 24 hours.