Electronic Health Records (EHR) systems have transformed healthcare by supporting seamless data exchange, coordinated care, patient safety, and proper diagnosis. However, many EHRs or Electronic Medical Records (EMR) lack the element of patient engagement, which is paramount in tracking patients with chronic conditions and contagious illnesses. By integrating tools like Well or Intrado with NextGen Enterprise EHR, healthcare centers can automate patient communication through the use of contextual texting. 
An automated communication system embedded in NextGen EHR could make the patient engagement process efficient. Without such a system, caregivers are forced to revert to taxing and antiquated communication processes. Replacing conventional patient follow-up routines with texting tools enable health organizations to realize immediate patient access improvements.
With Well or Intrado, healthcare organizations, including clinics, specialists, hospitals, ASCs, and FQHCs can follow up on patients based on EHR triggers. The systems offers two-way intelligent texting allowing patients to respond to text messages without clinic staff involvement.
Texting solutions can use patient data in NextGen EHR system to automatically identify and remind patients of scheduled appointments. The technology also enables patients to confirm or reschedule appointments, thus reducing "no-shows."
Features of Contextual Texting with NextGen Enterprise EHR
Intrado and Well automate the patient management process, thus reducing the staff's administrative burden. As chatbots are embedded in the EHR, they foster consistency and accuracy of all transactions delivered through their deep EHR integrations. Texting solutions begin working before the patient's first appointment and continues past post-procedure care to help automate the practice's manual patient outreach.
Here is a rundown of the core features of texting solutions.
Close-Loop Appointment Reminders
Appointment no-shows can cause a great burden on a hospital's financial and operational effectiveness. Through close-loop appointment reminders, text messaging with patients can develop an efficient and intelligent system that manages contextual communication. Some text messaging solutions offer multilingual tools that can be used across various cultures of the world.
This feature allows patients to confirm, cancel, or reschedule an appointment. The patient's choices are reflected in and EHR/EPM system, such as NextGen Enterprise, in real-time. People can also use this tool to self-schedule – that is, patients can decide their preferred dates for visits. Additionally, these integrations cohere with practice management (PM) appointment schedules and patient profiles.
With closed-loop care scheduling feature, patients can select their own dates for routine check-ups. Whether one wants to get a vaccine or flu shot, they can automatically select a suitable time through interactive and contextual texting.
Through text messaging solutions, NextGen EHR administrators can customize workflows and messaging to suit their organizational needs. With such flexibility, organizations can standardize messages and workflows that resonate with their brand.
Automate Patient Recalls
You can have text messaging solutions that support NextGen EPM recall integrated campaigns for preventive care, allowing clinics to recall patients when necessary. With these tools, tracking the recovery journey for patients suffering from chronic conditions and infectious diseases becomes effortless.
Patient Experience Surveys
Text messaging solutions makes the process of collecting feedback faster and easier. After a successful visit to a health facility, the practice should prompt patients to talk about their experience. If patients rate their experience as great, they should be directed to social media sites where they can write a review. EHR integration, therefore, provides a salient feedback mechanism that health systems can tap to create robust service delivery. 
Pre-Procedure Prep and Post Procedure Care
Texting allows practices to schedule reminder texts that are sent to a patient prior to a procedure to promote patient readiness and reduce last-minute cancellations. Through SMS, delivery of links to custom education materials can be sent and care teams can be alerted for patients who require additional support. Care team workflows can also be triggered post-procedure to monitor patients and reduce complications and readmissions.
Broadcast Patient Communication Messaging 
Broadcast messaging is also vital when informing patients of office operation hours and a physician's availability. EHR admins can create broadcast messages in a whim alerting patients of a doctor's delay or a facility's closure.
Benefits of Text Messaging NextGen EHR integration
Deep API or HL7 integration with NextGen EHR can streamline administrative tasks, bolster patient engagement, and enhance service delivery through contextual texting. 
Interactive chatbots automate communications such as appointment reminders, patient recalls, and attribution outreach in real-time. By reducing staff burden and allowing patients to select their suitable schedules, NextGen EHR integration boosts staff productivity and a health systems' workflow management.
Texting is ideal for health organizations of all sizes. The deployment can only take a few days and requires minimal training. The implementation and adoption of texting in NextGen systems is seamless, requiring no prior technical knowledge.
Reduce Exposure with Pre Screening
With EHR integration, we can protect those in the frontlines by adopting automated screening before the patient comes to the office. This is particularly important in today's times as clinics are battling COVID-19 and are trying to continue to see their patients with chronic conditions while reducing the spread of coronavirus. 
Through text messaging, the risk of spreading diseases can be reduced and direct contact with symptomatic patients can be avoided with pre-screening. Texting enables health care providers to reach out to patients prior to their upcoming visits to and with automated messaging rules, screen the patient for common symptoms.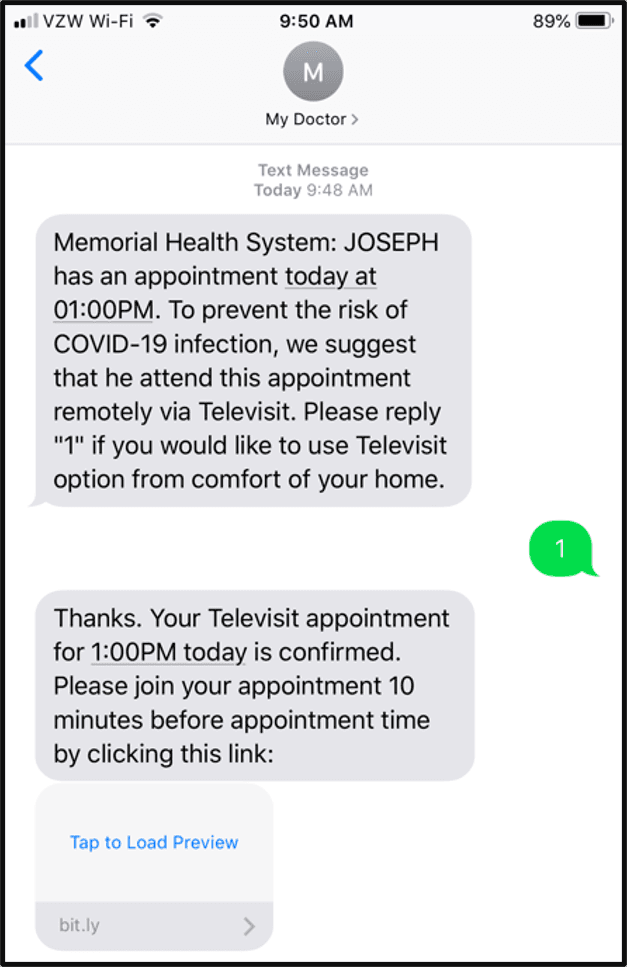 Patients who show symptoms during the pre-screening can then be routed to schedule a telehealth visit. Several phone calls have to be made every day to cancel and reschedule appointments. Texting solutions can present an automated contextual and interactive communication process that allows patients to cancel or reschedule appointments.
Improve Patient Communication with Texting
Through contextual texting, practices can drastically reduce manual workflows and provide contextual patient engagement via SMS. EHR integration with a texting solution is invaluable as it allows providers to concentrate on treating patients while allowing their team to monitor the health conditions of patients receiving treatment at home.
Where staff resources have been stretched to the limit, texting promotes automated virtual care to ease the burden. Contact TempDev today to learn more about how automating patient communication can help your practice. 
Interested?
Agree with our point of view? Become our client!
Please submit your business information and a TempDev representative will follow up with you within 24 hours.