Top 10 Things to Know About MACRA: MIPS
Meet the newest addition to our MACRA toolkit!
Welcome to our MACRA toolkit! To help our clients smoothly transition to MACRA, we are creating a collection of helpful infographics that detail MACRA's Merit-based Incentive Payment System (MIPS) path. We began this collection in April with our first two tools: the MIPS Checklist and MIPS Roadmap!
The Roadmap plotted out many important dates for the first two years of the MIPS reporting process. In our MIPS Checklist, we outline the specific tasks you should take over the next few quarters to ensure you're accurately reporting  and successfully integrating MIPS into your practice.
Our newest tool is a little different; rather than mapping out specific actions or dates, it answers ten of the most common questions are clients are asking us about MACRA and MIPS. We hope that it will help you feel more confident in your understanding of both MACRA and MIPS.
We tried to answer many questions in simple, easy to understand language instead of having you digest thousands of pages from CMS. We start by explaining what is happening with Meaningful Use, Value Based Medicine, and PQRS. Then we answer questions about how to prepare for reporting, who is eligible, and which version of NextGen Healthcare EHR you should use for your reporting. Finally, we ended our FAQ sheet with specific software requirements.
If you are late meeting the requirements, our FAQ also explains how to begin reporting later in the year. It also details everything from the last date you can start reporting to what products you need to prepare.
MACRA: MIPS Frequently Asked Questions (FAQ)
What is happening to Medicare Meaningful Use, PQRS, and VBM?

They are being combined into MIPS. Medicaid Meaningful Use is continuing and not included in MIPS.

How do I report on MIPS?

Improvement Activities - yes/no attestation

Cost - claim submission

Advancing Care - NextGen HQM clinical quality data

Quality - NextGen HQM clinical quality data

Who is an eligible clinician for 2017 MIPS?

Physician

Physician Assistant

Nurse Practitioner

Clinical Nurse Specialist

Certified Registered Nurse Anesthetist

What if I was not ready by January 1, 2017 for 2017 MIPS reporting?

You can begin reporting anytime between January 1 and October 2

As long as you submit something, you will not receive a negative adjustment

To receive a positive adjustment you will only need to submit 90 days of data

To maximize the positive adjustment, you must report the entire year

What if I attest for Medicaid Meaningful Use?

You will need to upgrade NextGen Healthcare Regulatory Release (version 5.9/KBM 8.4) to participate in Meaningful Use Stage 3. This includes FQHCs, CHCs, and Planned Parenthood groups.

What can I do now to prepare for MACRA?

Budget and plan for a new NextGen version and KBM upgrade in late 2017 or early 2018.

Which version of NextGen is required?

2017 - Use 2014 CEHRT NextGen version 5.8/KBM 8.3 or higher

2018 - Use the 2015 CEHRT NextGen Healthcare Regulatory Release (version 5.9/KBM 8.4)  which requires a version and KBM upgrade at the same time

What other products do I need in order to be prepared for MIPS?

You will need NextGen HQM, NextGen Patient Portal or another patient portal solution, and NextGen Share. We also recommend utilizing NextGen Care, NextGen Population Health, or another population health solution to increase your scores.

How will NextGen HQM assist with reporting?

You will need to configure NextGen HQM for Clinical Quality Measures and ACI after it is updated in early 2017.

How can I use TempDev to increase my likelihood of success?

TempDev can work with you to help you build your MIPS Roadmap. We are partnering with our clients to provide strategic planning, project management, training, go-live support, and development support when they need it the most.
Contact us to partner with our expert level TempDev MACRA consultants to create a more detailed implementation plan that will cater to your unique business needs!
The information for 2018 is subject to change based upon the 2018 MACRA Final Rule from CMS.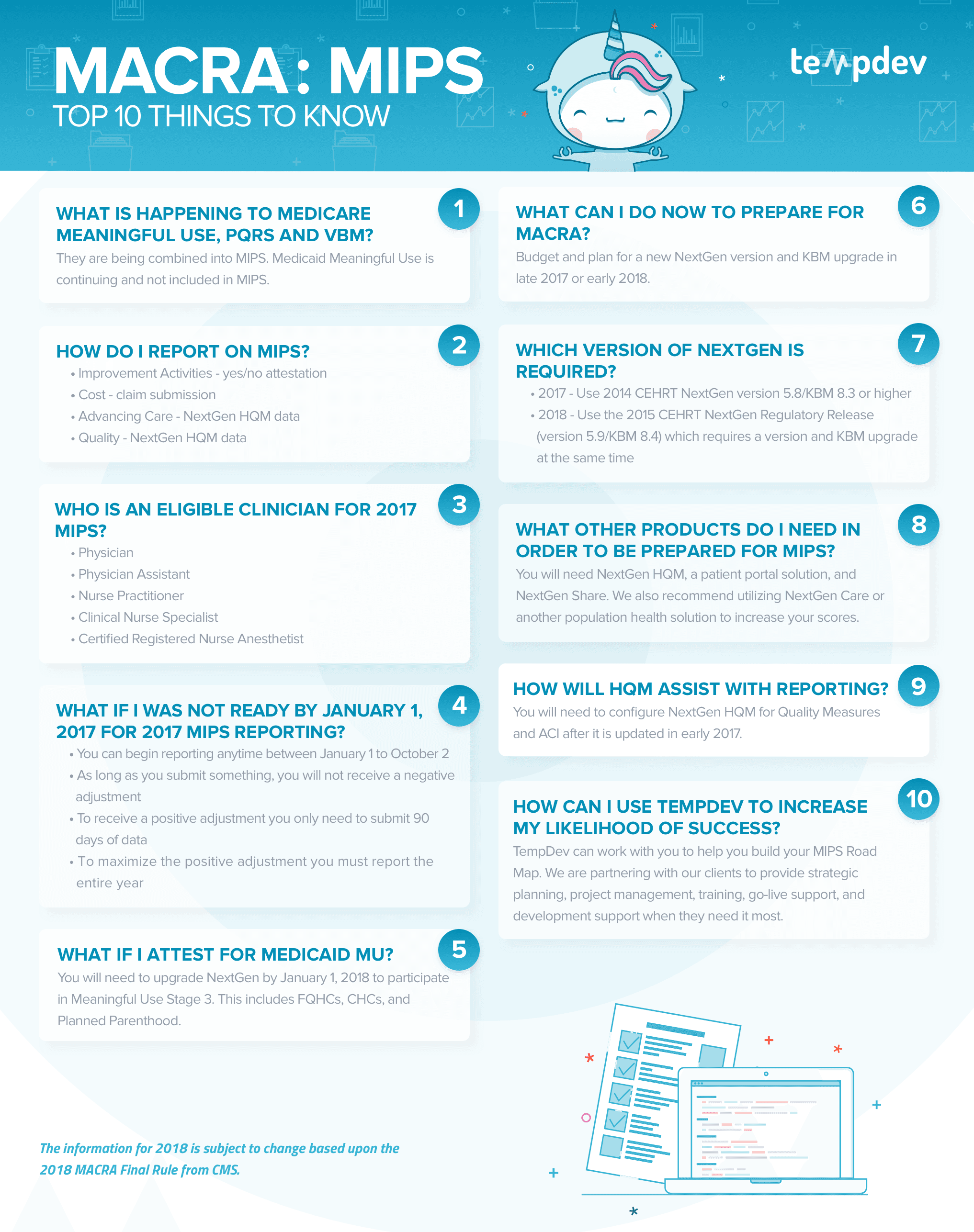 Interested?
Agree with our point of view? Become our client!
Please submit your business information and a TempDev representative will follow up with you within 24 hours.