Managing a large NextGen Enterprise install with dozens or even hundreds or practices, you are hit with an avalanche of information as soon as you open your email for the day. You and your team can easily be overwhelmed by the sheer volume of data and support you must process and provide every day. Even small practices can generate hundreds of tasks in an eight-hour period. Large practices go into the thousands. Keeping abreast of all that information for every practice you manage can be difficult for the most able of employees. Unless you are superhuman, you need assistance. Fortunately, TempDev has an advanced Microsoft SSRS report that provides insight with high-level practice key performance indicators: the NextGen EHR & EPM Practice Dashboard. 
The NextGen consulting experts at TempDev recommend this product as the best way to get a clear and detailed picture of vital practice information in one simple report. Using this dashboard can save you hours of work each week and steer you toward areas that need monitoring, re-training, additional NextGen support, or correction. You'll be able to keep a close eye on significant statistics on each practice and provider in your enterprise by quickly running the NextGen EHR & EPM Practice Dashboard. It contains everything you need in a single report instead of running dozens of individual reports, custom queries, or just not having access to the information.
This NextGen report is easily one of the most valuable tools you can employ to monitor and manage your practices within your enterprise. It is written in Microsoft SSRS but is easily ported to a business intelligence solution such as Microsoft Power BI.
NextGen Practice & Provider Dashboard
This dashboard offers clear, easy-to-digest performance categories. It provides information on individual providers but also gives you helpful practice totals. You'll be able to evaluate major performance numbers at a glance, including the following NextGen EPM & EHR KPIs:
Appointments - Kept, Cancelled, & No Shows

Medications - eRx, Print, & Fax

Orders - Lab, Radiology, Referral, & Other

PAQ -  Lab, Radiology, ICS, & Other

Tasks  - Phone, eRx, & Other

Portal - Sent & Received

NextGen Share Direct Messaging for referrals and consults - Sent & Received
Practice totals for each category are compiled at the bottom of each report for easy reference.
The NextGen EHR & EPM Practice Dashboard is essentially a report card you'll want to check regularly to give you a picture of the practice's status in your NextGen Enterprise. It gives you an executive-level view of important KPIs at both the practice and provider levels. By merely using this tool, you'll be alerted to several potentially serious issues and be able to take fast, corrective action in conjunction with your providers and other staff members. In short, you can understand a practice's system utilization in a matter of moments.
NextGen EPM Appointments
You should always know how appointment numbers are performing since the viability of the practice depends on them. The appointment category measures the number of appointments kept and canceled. You'll also see the number of no shows per provider. With this information, you'll be able to easily spot any unusual appointment trends, including those undesired increases in canceled and no show appointments.
NextGen EHR Medications
The NextGen EHR & EPM Practice Dashboard gives you prescription information, including how many prescriptions each provider submitted electronically, by fax, and which were printed out. This information lets you see how many prescriptions are issued per provider and how many for the practice in total. Also, you can determine which providers are using the most effective prescription transmission methods.
NextGen EHR Orders and PAQ
The orders category reveals how many orders have been submitted per provider, including lab, radiology, referrals, and others. The PAQ category lets you see how many of the results, including ICS, labs, radiology, or other, have been approved. These metrics are an excellent way to assess practice and provider efficiency and follow-up.
NextGen EHR Tasks
This category measures the completion of specific tasks that are not always closely tracked. For instance, you can see how many phone tasks remain open, and how many are closed, an essential element of patient satisfaction. You can also measure how many eRX tasks are outstanding and have been closed. Providers with an usually large percentage of incomplete tasks can use this information to find weaknesses in their operation and then provide remediation to specific staff members if necessary. Reducing the number of open tasks will also improve the overall NextGen EHR system performance.
NextGen Patient Portal and NextGen Share Figures
You can use the NextGen EHR & EPM Practice Dashboard to measure NextGen Patient Portal transmissions sent and received. You can also see which providers are using Direct Messaging with NextGen Share for referrals and consults, an important tool that if often underutilized. You can improve your practice management by encouraging providers to use all the advanced communications technology at their disposal.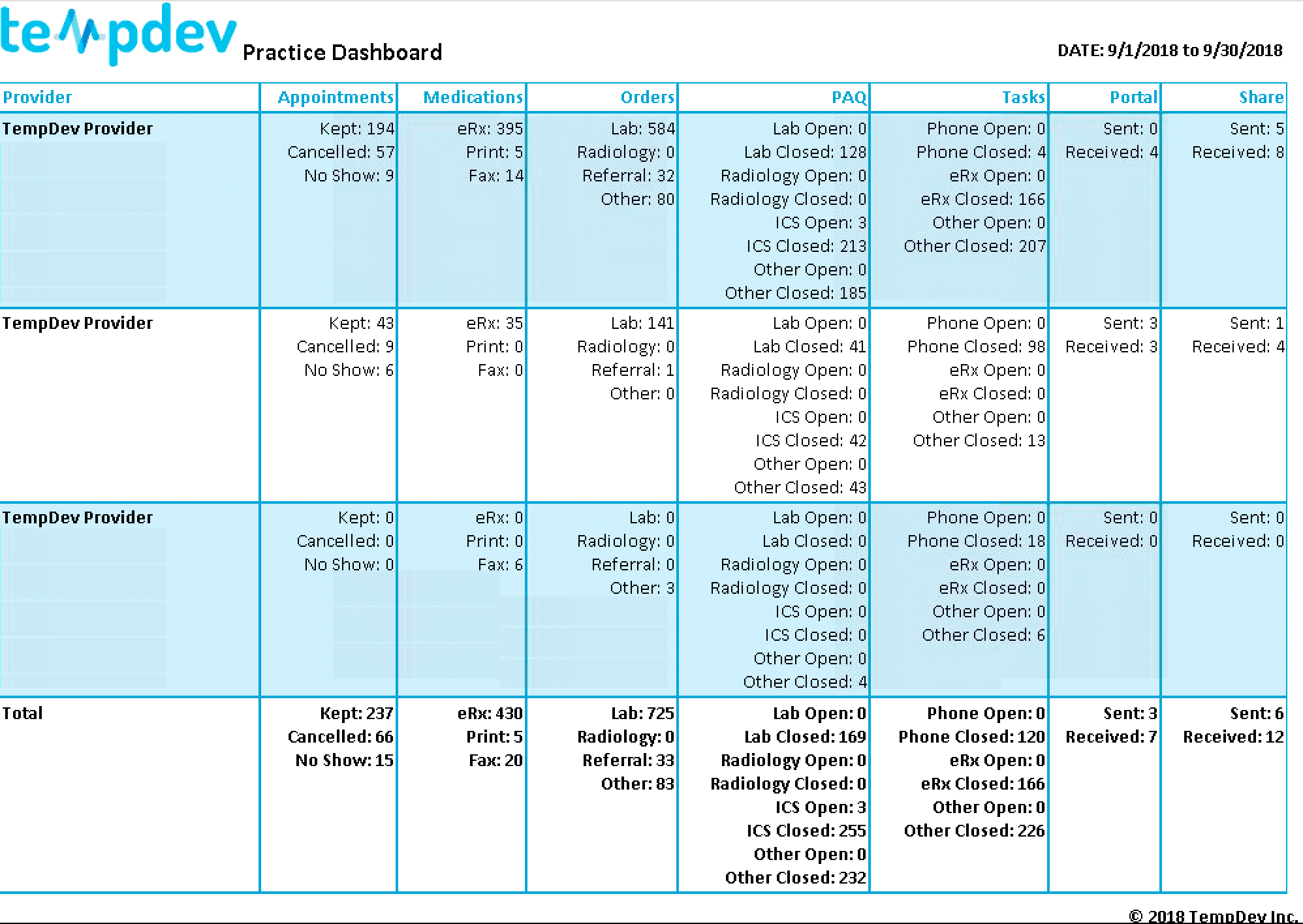 The TempDev Advantage
TempDev has created custom NextGen solutions because they give you the help you need to make your practice run more efficiently and provide better care for your patients. You can easily incorporate many of these NextGen tools into your practice with the help of the experienced NextGen consulting team at TempDev. They work to tailor a plan of action that fits your specific business needs. They not only recommend advanced NextGen solutions but also provide project management, in-depth training, staff augmentation, and other services that optimize your workflow and free you from ineffective processes. 
In today's healthcare environment, you need to utilize all the tools at your disposal to keep your providers and patients happy while maintaining robust revenue streams. The challenges for healthcare professionals will continue to mount, with new CMS regulations on the horizon as well as more health insurance upheavals. Let the experts at TempDev introduce you to the advantages of the NextGen EHR & EPM Practice Dashboard and other products and services that will improve your medical practice. Contact us at 888.TEMP.DEV or here to start partnering together on your next project.
Interested?
Agree with our point of view? Become our client!
Please submit your business information and a TempDev representative will follow up with you within 24 hours.