A healthy medical practice depends on several factors, but none are more important than successfully completed patient appointments. Despite your best efforts, patients often make appointments that they fail to keep. Sometimes they forget, and sometimes they simply decide not to show up. Missed appointments are a serious problem for both patient health and practice revenue. Patients risk complications from not getting or completing treatment. Providers cannot afford to have gaping holes in their daily schedules. Happily, you can improve your appointment numbers if you have the data that you need and the 
systems in place
 to raise your kept appointments ratio. With TempDev's 
Appointment Analysis NextGen EPM Report
, you have all the information in a dashboard view to start reducing missed appointments. 
To keep the practice running smoothly, you need to know how many appointments are being made each month and for what purpose. The Appointment Analysis Report looks at NextGen EPM scheduling data to provide a high-level view of that information as well as statistics on which appointments are being kept and which are not. This report lets you spot trends so you can take steps to boost your kept appointment numbers. TempDev, a leader in consulting services and solutions, offers the NextGen support and products that you need to analyze your appointment rates accurately. Armed with this information, you can make changes to improve your kept appointment statistics.
Appointment Analysis NextGen EPM Report Overview
This report gives you the total number of appointments your front desk or call center schedules each month and then provides stats about which appointments are successfully completed. It delivers this information in a line by line analysis bolstered by colorful, easy-to-read graphs. You can quickly check appointment trends, which are a key indicator of your practice's public popularity and financial health. No practice can thrive if its providers are under-utilized by the community. The Appointment Analysis NextGen EPM Report includes the following helpful information:
NextGen Appointment Statuses
You will receive information on your appointments and their statuses. The report gives you information for the current month, the previous month, and the same month last year. You can also see the change percentage between each time period, which instantly alerts you to positive or negative appointment trends.
The appointment statuses are then categorized as Scheduled, Kept, Cancelled, and No Show. These figures allow you to identify possible problems, including a sudden drop in appointments or an increase in no show patients - those patients who most harm your daily revenue. You can compare any change to the previous month and year to see if the practice is having an unusual month or experiencing a long-term downward or upward trend.
Like other professionals, medical providers experience busy and slow days. The appointment analysis report provides pattern information for each day of the week so you can determine which days have the most appointments and which have the most openings. You can also find out when your patients are most likely to show up. They may be prone to skipping appointments on certain days of the week. The report tells you if cancellations and no shows are most frequent on Mondays, Fridays, or some other day so that you can adjust your scheduling accordingly.
Patients also show up for certain types of appointments more than others. The Kept Events section allows you to see how this behavior affects your practice. You'll get information on established patient visits as well as follow-ups, add ons, physicals, and nurse visits. These figures reveal what services are consistently attracting patients and bringing in revenue. You'll also see what types of events patients are not keeping consistently.
NextGen Appointment Graphic Analysis
Managing a practice means you are constantly bombarded with facts and figures, which can be overwhelming. You often don't have time to analyze all the numbers available to you. Fortunately, the Appointment Analysis report includes sharp, colorful graphs that quickly reveal significant appointment trends. You will instantly know if appointments are up and cancellations down or whether there is a cause for concern.
The line and bar graphs for each category allow you to determine trends at a glance and decide which need more analysis. These graphs also include the information from the previous month and year so you can quickly note appointment number differences. The Kept Events graph provides key performance indicators for your different types of appointments. This graph allows you to see if you are gaining or losing ground on providing certain services and attracting new patients. You may decide to change your marketing or practice processes based on this information.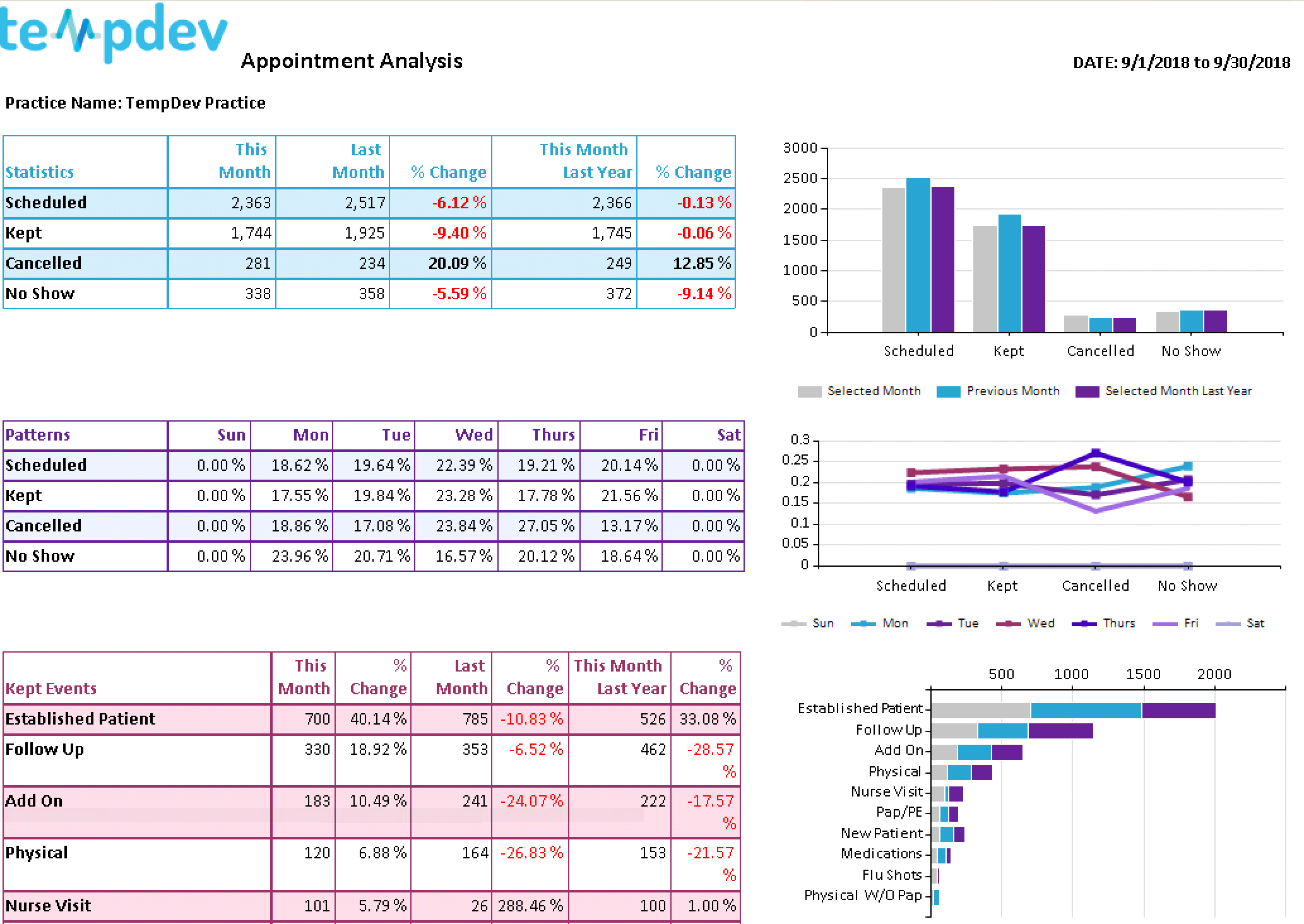 The TempDev Advantage
Effective practice management requires having the right NextGen solutions and support. TempDev, a leader in the field, offers providers the latest ways to enhance their NextGen products. Their experts can help you implement and optimize the management solutions that will best improve your practice. Among these solutions are Nextgen EPM reports, including the appointment analysis option.
Issues with NextGen appointment scheduling and kept appointment metrics are always a priority for any clinic or individual practitioner. The TempDev and NextGen combination lets you identify and correct problems with patient appointments and address them through staff retraining or increased patient contact and education. The Appointment Analysis NextGen EPM Report is an invaluable tool for practice management.
While healthcare breakthroughs improve medical care, patients cannot get the help they need without advanced practice management techniques. Your ability to provide a high standard of care means your practice must be financially healthy and efficiently run. NextGen EPM reports help you achieve this goal by revealing essential performance issues. Once you've identified these problems, you can take immediate steps to correct them. Call us at 888.TEMP.DEV or contact us here to get started on reducing your no show and cancel rates.
Interested?
Agree with our point of view?
Become our client!
Please submit your business information and a TempDev representative will follow up with you within 24 hours.