TempDev, a leader in NextGen consulting services and other business solutions, recommends incorporating the Provider Executive Summary NextGen EPM Report, written in Microsoft SSRS, into your regular reporting routine. This report allows you to easily view key performance indicators for each of your physicians, giving insight into their efficiency and billing practices. You get an informative snapshot of their revenue flow, including services rendered, accounts receivable, and collections. This information allows you to identify trends in appointments, billing, and payments and lets you make adjustments when necessary. It's a sophisticated tool that is simple to use, but it can change the way you manage your practice, leading to increased physician and patient satisfaction.
NextGen EPM Provider Dashboard Simplicity
The Provider Executive Summary NextGen EPM Report contains a wealth of information on one easy-to-read page per physician. You can how many services individual providers are billing in addition to appointment statistics, payor mix by financial class, accounts receivable aging, and relative value units (RVUs). You don't have to waste valuable time digging for this information with multiple canned NextGen EPM reports with Microsoft Excel Pivot Tables; plus, you can easily compare provider performance month by month for an entire year. This report gives you the information you need to make timely, informed management decisions about your practice and physicians.
Provider Executive Summary

NextGen EPM

Report

Advanced Features

The report's features include appointment, revenue, and efficiency data that reflect all aspects of a provider's performance.
NextGen EPM Financials
This report provides valuable data about patient visits, billing, and payments. These features include:
By using this report, you can quickly spot the strengths and weaknesses of a particular clinician's performance, including efficiency, and compare it to others in the practice if you wish. While several factors influence a physician's financial picture, it's helpful to know exactly where they stand in revenue generation each month.
Appointment Statistics from NextGen EPM
You can use the report's appointment data to determine if you need to make changes to booking, confirmation, and follow-up processes. Too many missed or rescheduled appointments harm patient care and a practice's finances. The Provider Executive Summary NextGen EPM Report gives you the following information: kept, canceled, no-show, and total number of appointments. You can quickly see if an individual provider has an unusually high number of canceled appointments or no-shows, which allows you to address the underlying problems. These stats are vital to improving your practice's financial picture.
Analytical Graphs for NextGen EPM Data
The report includes graphs that demonstrate A/R aging, payor mix, and appointment stats. You also get a chart that indicates visit complexity levels, a key factor in time spent per appointment, and billing codes. These graphs are helpful visuals for both executives and providers.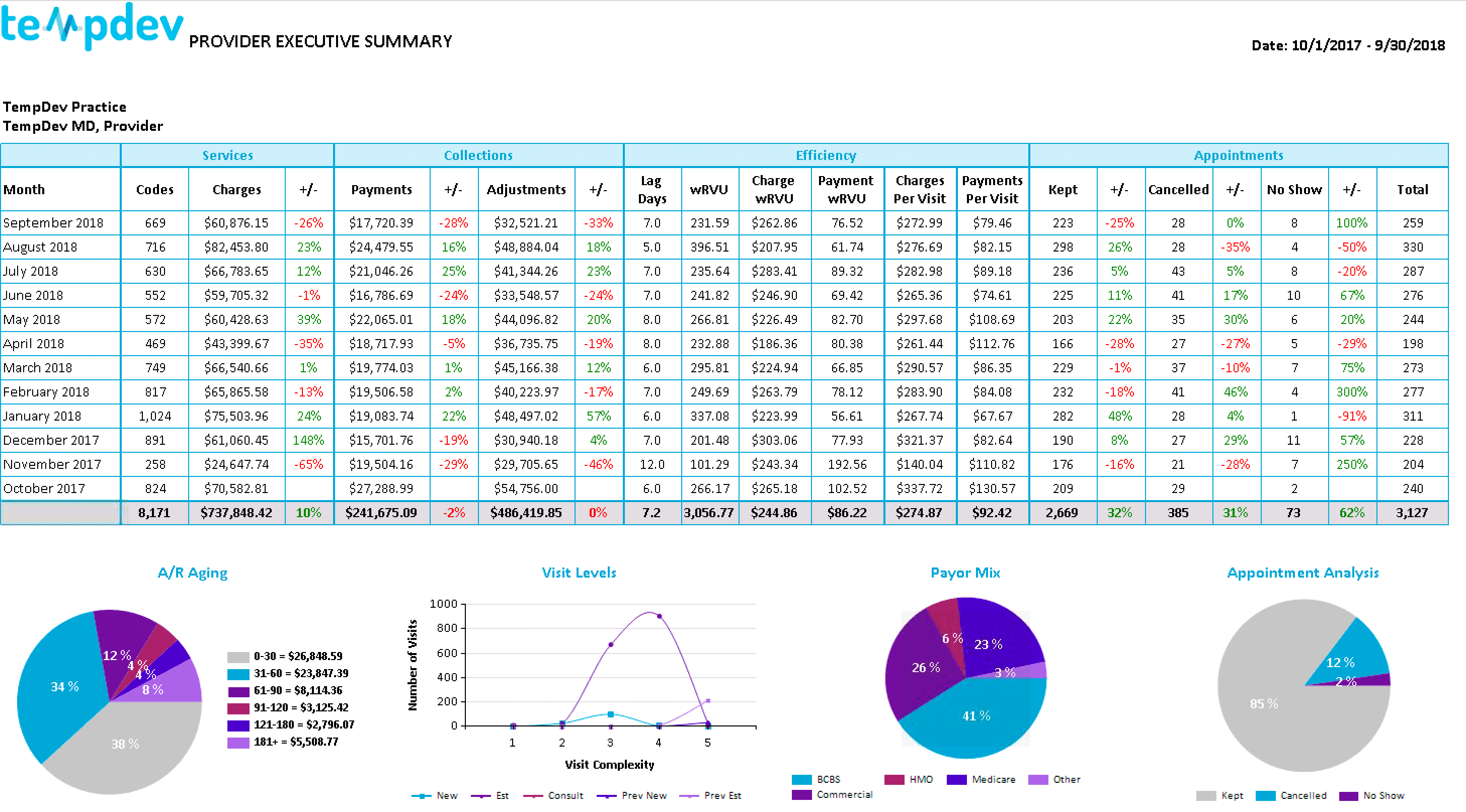 Provider Communication
Medical providers are incredibly busy and focused on the care of their patients. Many have little patience for extended discussions about utilization and the practice's finances. This Provider Executive Summary NextGen EPM Report allows you to inform them efficiently about key performance indicators in their practices, which can expedite substantive changes when necessary.
You and your providers need up-to-date, compelling information to ensure better patient care and better financial outcomes. In a multi-provider office or clinic, keeping up with all pertinent data is especially challenging. That's why a sophisticated practice management solution like NextGen EPM is essential for a complex practice. Today's healthcare landscape is growing increasingly complex. Federal and state regulations seemingly change overnight, and reimbursement issues are a constant. These challenges can be overwhelming if you do not have the latest and best management tools. When you use TempDev to consult and assist with your NextGen EPM implementation, you are tapping into one of the most significant partnerships in the healthcare industry.
The TempDev Advantage
Every medical practice faces management challenges, including its competitors. Many of those competing practices are using powerful reporting to help them become more efficient and improve their position in the marketplace. They understand that consulting groups like TempDev offer customizable, flat-rate solutions so your practice retains its own culture while improving physician satisfaction, quality metrics, system effectiveness, and employee performance.
NextGen software products are simply unmatched in the industry, but you cannot take full advantage of these tools if you do not have the expert help you need. TempDev has long specialized in NextGen customization and understands both the technical back-end database and can communicate effectively with your business. With their help, you will maximize your NextGen experience so you can stay competitive in today's healthcare market. At TempDev, they focus on giving you all the practice management capability and assistance that you need as you need it. As your practice evolves, they help you adapt to the changes with new software and services.
TempDev's NextGen EPM reports, such as the Provider Executive Summary, simplify your life. They summarize key practice statistics so that you and your providers know what is going on financially in each provider's office. You also receive insight into efficiency issues as well as appointment problems. Let the experts at TempDev explain how NextGen software can help you provide better patient and physician experiences in the future by calling us at 888.TEMP.DEV or contacting us here.
Interested?
Agree with our point of view? Become our client!
Please submit your business information and a TempDev representative will follow up with you within 24 hours.