E&M CPT codes are the most common ones used by providers for billing purposes. In fact, medical professionals may be able to recite them in their sleep. Providers might assume that they know all there is to know about these codes and no longer closely examine which ones they use. This comfort level with the E&M codes may be harming your billing system and leading providers to misuse some of these codes.
Proper use of E&M coding is essential to your practice's financial welfare. Many providers already bill less than they should by choosing the wrong CPT code, and the process will be more difficult in 2021 due to CMS changes. That's why 2020 is the year to analyze current provider coding practices and prepare for the new ones. TempDev recommends using the E&M Coding Habits NextGen EPM Report to identify trends in your providers' coding practices and take the opportunity to improve them.
E&M Coding Habits NextGen EPM Report Overview
The E&M Coding Habits report gives you vital information about the E&M codes your providers choose. This data is broken into various helpful categories. By using the report, you can learn what individual providers bill during different types of visits with both new and established patients.
The report breaks out individual patients as well as encounters that document practice and provider coding choices. The program provides this information in a simple, effective format that makes it easy for you to read and understand. You can then take the appropriate steps to improve your providers' E&M coding habits and provide necessary feedback.
The report is versatile and easily customizable to meet your organization's needs since it is written in Microsoft SSRS. It can be easily ported into your business intelligence software, including Microsoft Power BI. The report includes the following information:
Top Provider Codes
The report allows you to see what codes your providers use the most often during new office visits, established office visits, and consults. You can determine what codes certain providers prefer and compare them to the codes used by other providers and those most often used practice-wide. Perhaps a provider uses 99215 for an established office visit at a significantly higher rate than the other practice providers do. Timely feedback to the provider can determine if a change needs to be made and hopefully prevent an audit by your payors. The charts show how often the codes are used and give percentages, which make it easy to catch both positive and negative trends in E&M coding.
Patient & Encounter Information
The line entries in the E&M NextGen coding report show what codes you billed for individual patients and encounters. You can see what codes were calculated by NextGen EHR, submitted, and billed for each provider's patients. This information makes it easy to note any unusual coding patterns for a particular patient. If the coding is unusual, consulting with the treating physician may be in order.
Providers strive to use the right codes, but they sometimes fall into bad coding habits, using the most complex codes when others would be more accurate to the level of exam for a visit. Poor coding practices do affect your revenue streams when they do not reflect all of the services rendered.
Auditing E&M Choices
Since NextGen EHR KBM templates are sophisticated enough to assist in the selection of E&M codes, auditing a physician's charts for under or over coding is easier than ever. In a straightforward report, you can see what codes the templates calculated, what was submitted, and what was ultimately billed. Once armed with this knowledge, discussions can be had with providers more easily if inconsistencies are noted. This assists in physician management issues that may arise from inaccurate coding with unsubstantiated proof. It can also help prevent payor audits for inconsistent billing practices.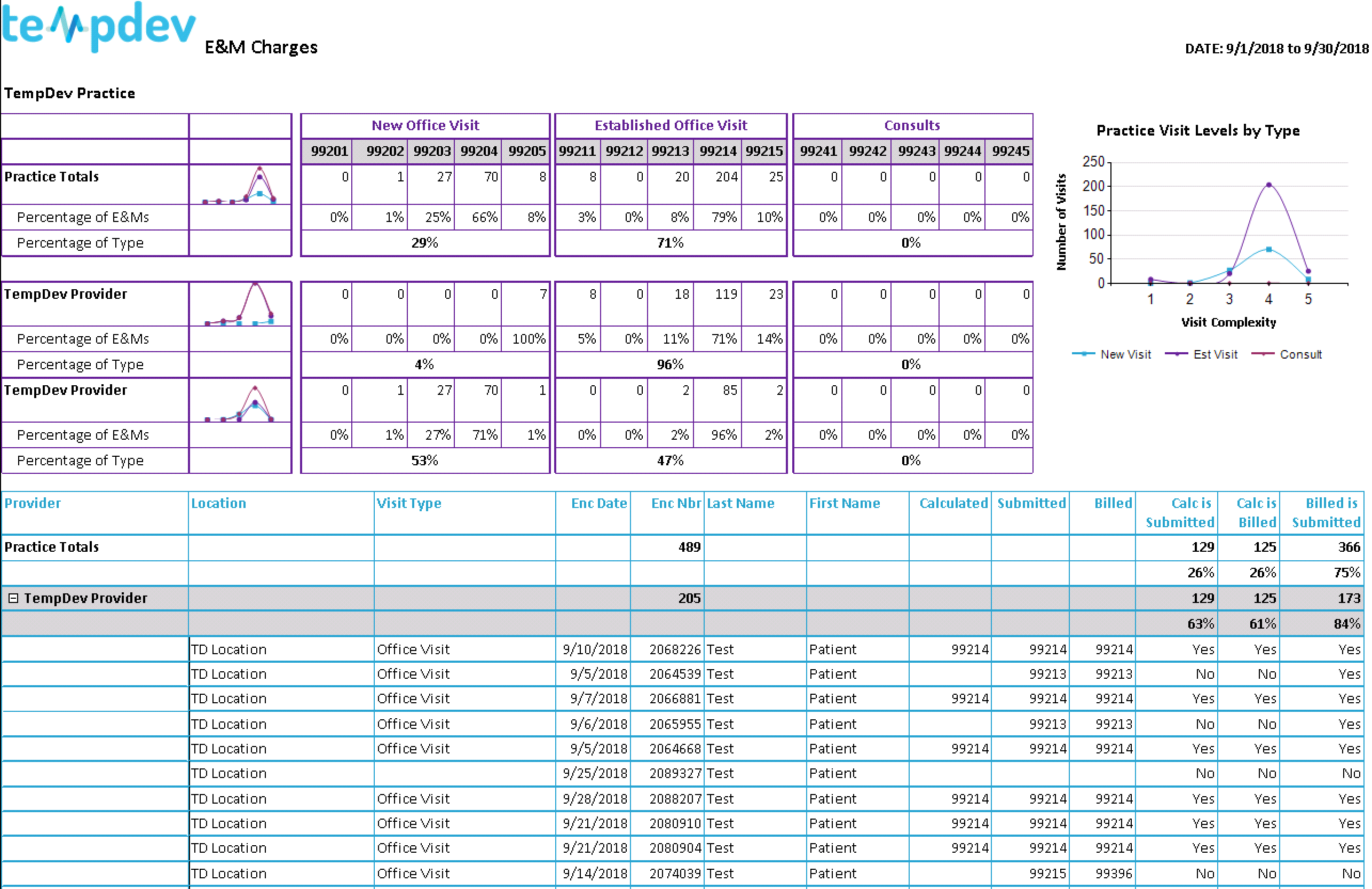 2021 E&M Coding Changes
CMS, with the help of the AMA, has designated new
 E&M coding
 practices that will begin January 1, 2021. These changes are designed to simplify the billing and reimbursement process and should increase revenue for many providers. They will require a significant adjustment on the part of your providers as well as office staff, however.
The major changes to E&M coding include dropping 99201, a code for an office or other outpatient visit for E&M of a new patient. Instead, 99202 will be used since it covers the same services. In addition, add-on codes have been created that may be used with CPT codes 99205 and 99215 to add 15-minute increments for billing purposes. Changes have also been made to the physical and history aspects of code choice. These changes mean that providers will have to reconsider how they code many common office visit types.
TempDev's E&M Coding Habits NextGen EPM report can help you prepare for these changes. You can determine how often you are using 99201 and see how the new rules will affect your provider's reimbursements. You can also see how the add-on codes will change how you bill and what your reimbursement will be in the future. Those providers who are prepared for the change will not see reimbursement delayed due to incorrect coding.
The TempDev Advantage
TempDev delivers the latest in practice management reporting solutions for NextGen EPM & EHR products. Their consulting experts can help you get the most out of your NextGen software, including their E&M coding report. With this coding analysis, you can make changes to strengthen your billing process now and prepare for future changes. To stay competitive in today's healthcare industry, you need to assess your practice management continually. TempDev consultants can guide you through this process while customizing their services for your particular business needs.
The 2021 E&M coding changes will be challenging for many providers. The TempDev staff understands these changes and can help you smoothly transition to the new system. If you begin now, you can avoid having claims rejected for invalid codes. You will also know how to use the add-on codes accurately, which will often lead to increased revenue. Your practice relies on proper E&M billing codes. Let TempDev help you improve your E&M code usage and implement other practice management solutions by calling 888.TEMP.DEV or contacting us 
here
.
Interested?
Agree with our point of view?
Become our client!
Please submit your business information and a TempDev representative will follow up with you within 24 hours.