Healthcare administrators must have the most advanced tools to successfully operate their practices in a highly competitive and sophisticated healthcare market. It is crucial to have operational and revenue cycle dashboards that give insight into practices that use the NextGen EPM. These comprehensive analyses allow your management to stay current with vital financial and performance information so that you can quickly react to problems in your organization.
It is difficult to find high-level reporting needed for revenue cycle management, which is why you should partner TempDev to help you implement the most effective reporting solutions. TempDev's pre-built NextGen Revenue Cycle Dashboard SSRS Report can be quickly implemented to improve financial insight. This system generates an easy-to-read NextGen EPM report that contains the most crucial appointment, accounts receivable, and claim denial statistics for your practice. This report quickly updates you on the positive and negative trends that affect your office or clinic.
Revenue Cycle Dashboard for NextGen EPM
Your staff simply doesn't have time to run all the reports in NextGen EPM, much less analyze it. The TempDev team recognizes this time issue and offers multiple options to make your practice more efficient and profitable. At TempDev, we offer pre-existing NextGen reports because we understand the complexity of gathering the data for executives. The 
Revenue Cycle Dashboard NextGen EPM Report
 is a superior choice for healthcare organizations. It is affordable and offers advanced features that let your office operate at its highest level. The NextGen EPM report features the following:
A Dashboard Level View of Appointments Statistics
This report allows you to easily view important appointment information such as your practice's total number of appointments, the number that was kept, the number that was canceled, and the number that was rescheduled. You can also find out how many 
troubling no-shows
 that you have. These stats will help you make changes to the process to ensure more patients show up for their appointments.
Accounts Receivable Breakdowns
The Revenue Cycle Dashboard report generates in-depth data about your accounts receivable and places it into helpful categories. With just a quick look, you can see how much total accounts receivable revenue you have. You can also view how much of that revenue falls into monthly cycles, including 0-30 days to over 121 days.
In addition, this NextGen EPM Dashboard report shows payments grouped by financial class, including insurance types and those who self-pay. These categories help you more accurately anticipate incoming revenue.
You can also view other helpful financial information, including point of service payments, business office payments, gross collection ratio, insurance lag days, and office lag days. The report includes stats on kept appointments with missing charges and a summary of adjustments and bad debt.
The TempDev Revenue Cycle Dashboard NextGen EPM report gives you a quick and accurate overview of your practice's financials. This report alone can point out the weaknesses and strengths in your accounts receivable process and allows you to make adjustments.
Insurance Claim Denial Statistics
The financial health of any medical practice depends on health insurance reimbursement. Denied claims are a costly and time-consuming issue for all medical facilities.
The Revenue Cycle Dashboard NextGen EPM report allows you to spot what denial codes your practice is receiving most often. You can see the percentage of on-the-fly electronic remittance advice your claims generate. You can then see the specific codes that are leading to a loss of reimbursement, such as:
Claim/service lacks information

Missing/incomplete/invalid

Non-covered services

Deductible

Charges exceed your contracted amount

Payment is included in the allowance

Refer to payer website to file

Non-covered charges
When you have this information, you can take steps to improve your claim filing. If you see a 17% "lacks information" denial, your staff is consistently submitting faulty claims. Sometimes, just a few hours of additional training can bring that stat down significantly. At the very least, rejected claims or services delay reimbursement, sometimes for months. Plus, resubmitting claims costs you in staff time. With the TempDev NextGen EPM report, you can quickly identify the issue and takes steps to correct it.
If many of your denial codes are "On-The-Fly ERA" reason codes, you can work with TempDev to adjust your Reason Code Library, so you're accurately tracking ERA denials and moving the money appropriately.
Plus, TempDev can help you customize this Nextgen EPM Dashboard report by adding other key performance indicators (KPIs) that are particularly relevant to your practice.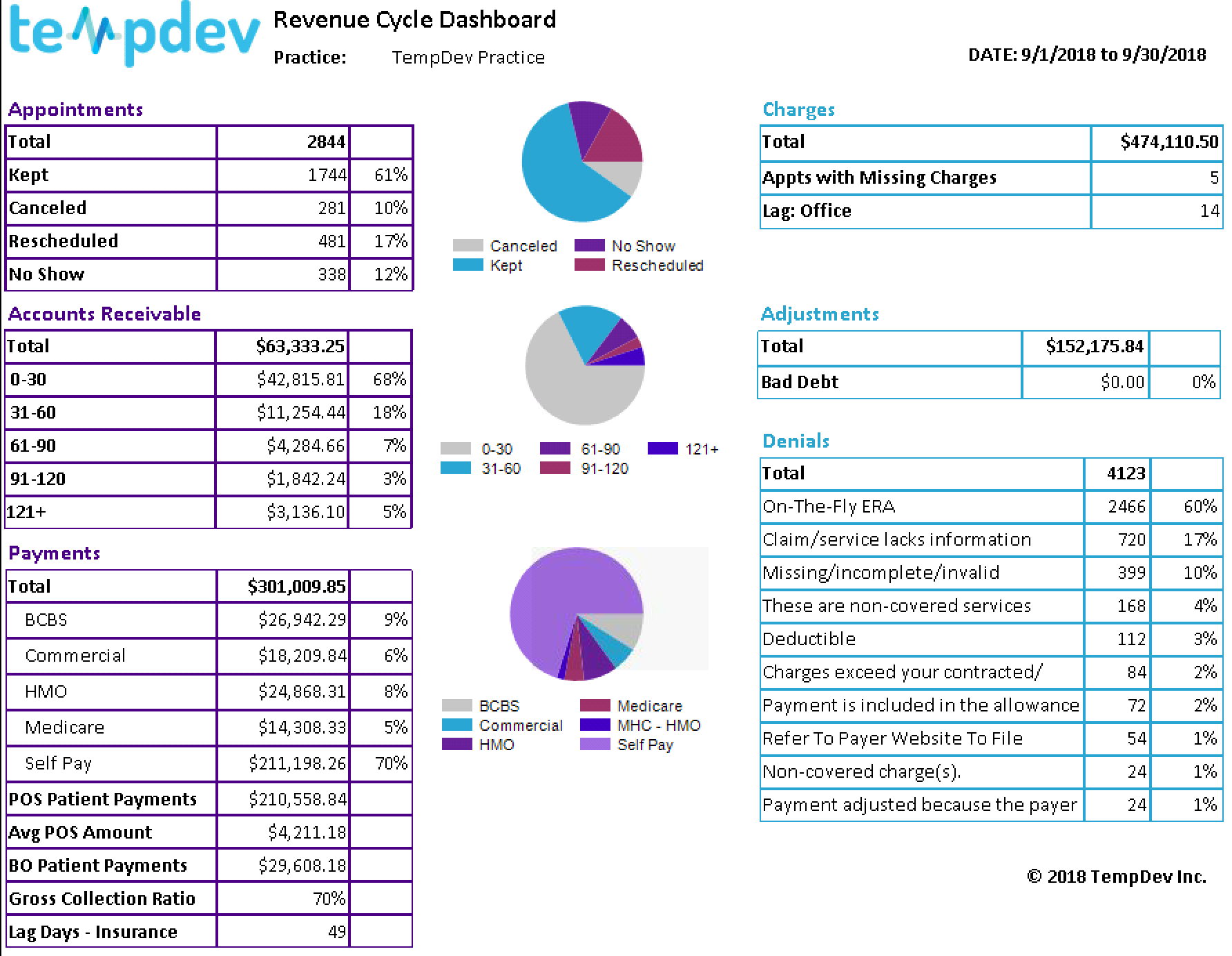 TempDev Expertise
TempDev provides several services that help you streamline your financial processes while offering your patients the highest level of customer service. They specialize in superior solutions, including the Revenue Cycle Dashboard NextGen EPM, and work to help their clients get the maximum benefit from their investment in NextGen EPM & EHR. You receive expert consulting and ongoing support from their dedicated experts.
In addition, 
TempDev
 can customize other business solutions for your practice. They commonly address issues such as physician satisfaction, employee efficiency, quality metrics, and reimbursement challenges. The TempDev team can show you how the Revenue Cycle Dashboard NextGen EPM and other specialized products to help you to generate and collect more revenue for your practice.
Healthcare is more than a business, but your practice must take care of the business details in order to thrive. Without a sizable and steady income stream, you cannot give patients the level of service that they deserve. Often smaller to mid-size practices don't take advantage of the latest technology and stick with out-dated reporting systems. Larger medical practices may need an upgrade in their solutions also. TempDev can help you get the software you need to keep your practice financially healthy and competitive with other area providers. Call us for a demo at 1-888-TEMPDEV or Contact us 
here!
Interested?
Agree with our point of view?
Become our client!
Please submit your business information and a TempDev representative will follow up with you within 24 hours.