Streamline Your Practice With the NextGen Copay Audit Report
The collection of copays is a double-edged sword for most medical practices. On the one hand, it's often a brutally inefficient process that takes valuable time away from the elements - patient care, scheduling, and the like - that help to keep your practice running smoothly. On the other, collecting the right amount for copays is integral when it comes to maintaining the financial health of the practice since the likelihood of being reimbursed for the visit is greatly diminished once a patient leaves the office. It is a delicate balance that must be maintained for a practice to run smoothly, which is why we created our NextGen EPM Copay Audit Report.
In fact, the copay process has only become more and more difficult in recent years with the rise of 
patient financial responsibility and high-deductible plans
. The byzantine, ever-changing rules and regulations of the modern American health care industry make it a system bogged down with red tape and roadblocks. Along with those problems? The differing patient responsibility methodologies insurance companies have - all customized to their specific requirements. Just that factor in itself makes for the entire copay & patient responsibility process a gigantic headache.
Adding to that problem is the human factor - in several different ways. First, there's the problem of front desk staff errors when it comes to the copay collection process. They may misinterpret a rule or regulation, undercharge or overcharge a patient, or forget to charge them at all. You end up with credit balances on some encounters that need to be refunded and patient collections on others that should have happened at the visit. That costs your practice headaches when it comes to reconciliation and even more headaches when it comes to the bottom line. That human factor also plays in interactions with patients. Let's face it - it's tough to ask for money for some people, especially when patients may also be confused by the process. Copays may not get collected when they need to be, through negligence, ignorance, or just plain embarrassment.
Lack of effective collection processes may be understandable - but it's also definitely harmful to the bottom line. So, how can busy patients achieve the best possible copay collection practices to help keep the practice running smoothly?
Luckily, TempDev is here to help.
The Solution: The NextGen Copay Audit EPM Report
Accurate and efficient collection from a practice's front desk area is the absolute "Holy Grail" when it comes to a practice's financial system. In order for a practice to do that, there needs to be a culture of accountability and responsibility instituted. The best way to get an efficient snapshot of both in your practice's front office? The 
NextGen Copay Audit EPM Report. 
This powerful tool gives you the ability to find out what's working - and what's not - when it comes to your collection process.
With a few clicks, you can use the 
NextGen Copay Audit EPM Report 
to get an effective "report card" of your front desk's operations. The Audit Report shows you just where the hangups and roadblocks are in the patient collections process. With a few clicks, you can get the information you need to analyze the entire process - front to back. The Audit Report shows you:
Percentages of correct copay

, so you can get an "after-action" report and determine how accurate individual workers are at collecting the right amounts from patients. It is a vital tool for pinpointing where the issues are and providing opportunities for improvement.

Front desk usernames, patient, and encounter information, 

so you can take a "deep dive" into specific employees with patient examples to determine where the process may be broken.

Payer information, 

to analyze any trends payers may be playing within the patient collection process. 
The 
NextGen Copay Audit EPM Report 
gives powerful insight into your payments and collection process in an instant. Armed with compelling data, you can take decisive measures to maximize the patient collection amounts coming into your office. Discover what's working and what's not - and which employees are effective and who is not. With these insights, you can adjust personnel as necessary, institute effective re-training practices, or change the process to make sure that everything is running smoothly.
Additionally, you can find out what specific segments of your patient population need a "higher touch" of interactions and guidance, and which ones are working out well. The 
NextGen Copay Audit EPM Report
 will assist you with streamlining the entire copay workflow by spotlighting trouble spots. Explore the trends with individual insurance companies that aren't working and develop methods to fix them. Pick out the repeating collection errors, spotlight them to your staff, and ensure they get corrected.
The 
NextGen Copay Audit EPMReport 
enables you to shine a powerful spotlight on one of the critical elements of your organization. It's essential to hold your front desk area responsible for the vital lifeblood of your organization - the copay collection process. This in-depth report allows you to figure out the trouble spots, fix them, and get back to the important stuff. It's a proactive way to find and fix any financial hiccups that can cause headaches when it comes time to look at the financial reports.
Use the 
NextGen Copay Audit EPM Report 
to develop a streamlined and efficient copay collection process and get back to what you do best: making sure your patients get the best care possible.
Getting Started With the NextGen Copay Audit EPM Report
With the 
NextGen Copay Audit EPM Report
, you can track how your NextGen EPM front desk is performing when collecting copays, improving performance, and identifying crucial training opportunities. This vital, user-friendly resource delivers powerful insight into the practices and processes of your front desk. Use it to get a useful snapshot of what's working - and what's not - throughout your organization. With full customer support and easy integration, installing the 
NextGen Copay Audit EPM Report,
 written with Microsoft SSRS, into your system is simple and effective.
Ready to get started with unparalleled insights from the 
NextGen Copay Audit Report
? Click here to 
fill out your information
 and try the 
NextGen Copay Audit EPM Report
 before you buy it. Get the knowledge and support you need!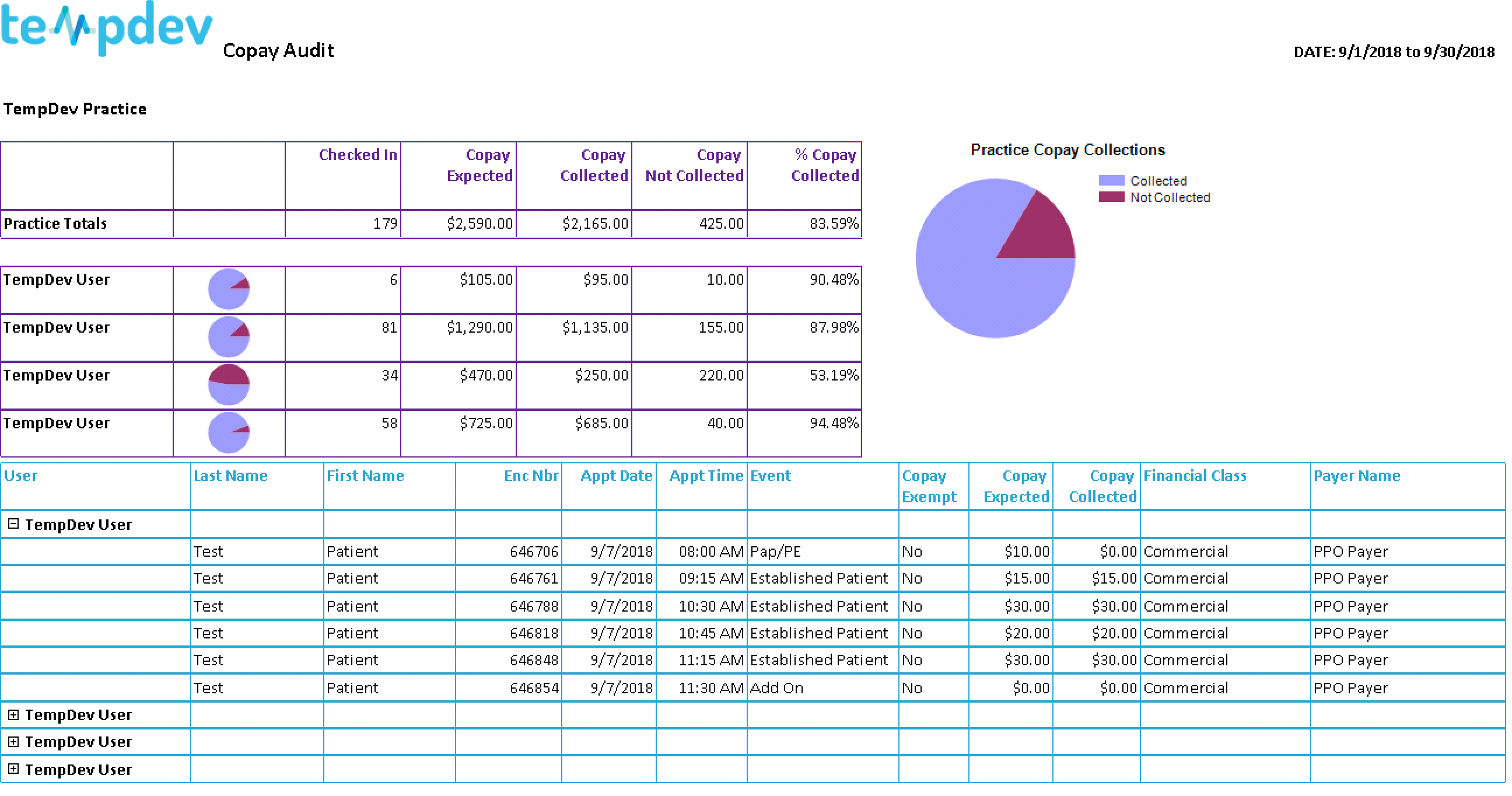 Interested?
Agree with our point of view?
Become our client!
Please submit your business information and a TempDev representative will follow up with you within 24 hours.